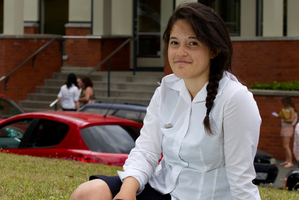 Waikohu Ranginui is not your usual high school student.
The 16-year-old from Opotiki has achieved outstanding results in the University of Cambridge International Examinations at Auckland secondary school ACG Parnell, including 95 per cent in art and design, her favourite subject.
Four years ago Waikohu was in a Maori language immersion school where, from the age of 8, she taught herself to read and write in English.
"It was [hard] at times but I got with it," she said.
As a primary school student, Waikohu attended Te Kura Mana Maori o Maraenui School, near Opotiki.
"When I came to college it was really hard but then I got used to it, so I've improved since then."
In her first major secondary school exams Waikohu, who is of Whakatohea, Tuhoe and Te Whanau-a-Apanui descent, scored As and Bs in the international exams.
"I'm very happy with them. It was pretty intense in term four, the study and that.
"I had to really focus and do my best. I didn't really know what to expect."
Waikohu, who also sings in the school choir and will be a prefect this year, was one of the first Ministry of Education Aspire scholarship students where $15,000 is paid towards school fees and $1500 towards course costs each year.