Sport, except for the famed Boat Race, will take a back seat to study for Storm Uru.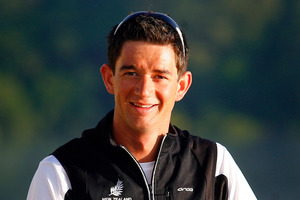 Different job, different Cambridge. London Olympic rowing bronze medallist Storm Uru is set to swap the expansive water of Lake Karapiro for the narrower channel of the River Cam.
He intends to complete a year-long Master of Business Administration at Cambridge University and will trial for The Boat Race, arguably the most famous head-to-head contest on the rowing calendar.
Crews from Oxford and Cambridge universities race along the Thames for four miles and 374 yards in a contest dating back to 1829.
Uru wants to take a break from representing New Zealand in the lightweight double sculls with Peter Taylor. The duo have been together five seasons, culminating in one of Rowing New Zealand's five Olympic podium finishes on Dorney Lake in August.
Uru has a back injury which is expected to take six months to repair. The Cambridge academic year starts around September and his course details are expected to be confirmed in February.
The 27-year-old already has a decent chunk of the alphabet behind his name. He has conjoint science and commerce bachelor degrees, majoring in chemistry and finance, plus a masters in management where he researched New Zealand's free trade agreement with China to see if it was helping Kiwi companies set up operations there. He must do his own sound trade with the local framing business in Cambridge, Waikato.
Uru has no intention of being an eternal student. He's still studying because of professional rowing's disruptive nature.
In fact, Uru has just started his first full-time job on the Bank of New Zealand's Wellington trading floor, putting his finance knowledge to the test.
"I've given myself eight months to learn about life on the outside. It is giving me an insight into the economy, how Reserve Bank decisions affect what we do, and the wider global picture.
"At Cambridge, I'm also expecting to be exposed to different ways of thinking. It is a stepping stone to the rest of my life; a life-changing opportunity. Cambridge strikes as an outstanding institution for academic achievement. Until now, I've always put rowing first.
"I feel like I've been in a bubble the last few years. Rowing stretches you physically but perhaps not as much mentally. I wouldn't rule out coming back for the Rio Games because I'm disappointed at not winning Olympic gold ... but I need a break."
WHEN URU goes to Cambridge, he will join an esteemed line of New Zealand representatives who have married academic and sporting excellence at an Oxbridge university. Former All Black captains Chris Laidlaw and David Kirk attended Oxford, as did All Whites defender Ceri Evans, Olympic mountain biker Rosara Joseph and rower George Bridgewater.
Bridgewater went straight to Oxford after earning bronze in the men's pair with Nathan Twaddle at the 2008 Olympics. After "writing essays about myself and all that jazz", he was selected for the MBA course as well as the crew which won the 2009 Boat Race.
"It was an opportunity which was too good to miss. I'm sure Storm will feel likewise. He strikes me as a mature guy who's thinking about his future. The Olympic medal is a great springboard through a slim window of opportunity."
Bridgewater works for global financial services firm Morgan Stanley. The 29-year-old is based in Singapore with wife Rachel, a former New Zealand coxswain, and eight-month-old son Hugo. The family will spend Christmas at a Coromandel farm where he says his father-in-law intends to put the "office boy" to work lifting hay bales.
The Oxford experience is tattooed into his memory.
"It was intense because you're doing long days mixing study with rowing. I was in the library until midnight most nights with three other guys and we've become best mates. You need people to lean on.
"I thought it [Oxford] might be a bit toffee-nosed but it was a great student town full of young people having fun. It's definitely helped open doors.
"The rowing alone wasn't too bad because I'd just come out of the Dick Tonks regime where we did a ridiculous number of kilometres a week. My workload was only 70-80 per cent of what I was doing with the New Zealand squad. It was still a brutal programme but that base fitness helped."
The Boat Race win remains Bridgewater's abiding memory. The Thames course was packed, armed forces boats patrolled and helicopters hovered.
The victors cracked open champagne while the vanquished openly wept on the embankment. At the post-race dinner, the winning Oxford crew were ushered into a separate room to celebrate.
All but one of them recently attended the wedding of a crewmate in Poland. They each wore their blazers, a gift bestowed by the university as part of the awarding of blues for sporting achievement.
"I often wonder how close we'd be if we hadn't won," Bridgewater says. "We're a tight bunch. We still get together once a year to watch the race."
BRIDGEWATER'S FORMER crewmate Nathan Twaddle is an adviser for High Performance Sport New Zealand's athlete life programme. He hopes the ambition of his fellow bronze medallist and Uru show younger athletes life beyond elite sport.
"It's all very well having a degree but we're trying to help athletes work out how they best use it," Twaddle says. "For instance, Storm is incredibly good at networking. People buy into what he's doing and that's vital with a limited opportunity to seize on Olympic success. You've got to kick down every door you can. It's hard moving out of sport to earn your keep again in a 'real' job."
Twaddle cites double Olympic medallist Mahe Drysdale as a case of someone facing a difficult call on where to take his career. Drysdale is expected to take a spell from rowing next year.
"Mahe has an interesting question ahead of Rio," Twaddle says. "Does he continue - at which point he'll be 37 - but without the skills of working in a career outside rowing? The Olympic medals count for a lot but he has to weigh up whether he can hang his hat on that."