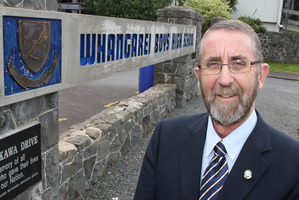 A Northland headmaster has written to Prime Minister John Key expressing his concerns about banning drug sniffer dogs from schools, saying it is "short-sighted nonsense" and proposed new legislation was "nuts".
The Education Amendment Bill, which was introduced to Parliament this month, aims to abolish the use of drug sniffer dogs and drug testing in schools.
The Ministry of Education says the changes will encourage safe learning environments without invasive methods.
Whangarei Boys' High School headmaster Al Kirk has outlined his concerns to politicians Hekia Parata, Phil Heatley, Mike Sabin, Hone Harawira and John Key.
"I can tell you that WBHS is not supportive of the two amendments relating to drug tests and drug dogs. We are strongly opposed to these suggested changes. Schools will be left to pick up the pieces," Mr Kirk said in his letter.
"I urge common sense and ask you think long and hard before supporting such retrograde changes."
He said safety of students would be compromised under the new regulations in some cases.
The school regularly had a drug sniffer dog go through the school and hostels.
"Surely to goodness, schools should be drug-free," Mr Kirk said.
He said that under the recommendations in the bill, it would be easier for children to bring drugs to school because deterrents such as drug testing and random searches were taken away.
Currently schools could use drug testing and urine samples as a condition for suspended students returning to school who were caught with drugs.
Under the new bill, teachers will still be able to take reasonable steps to make students surrender items, confiscating and disposing of items where appropriate.
However, the bill will prohibit searching a student through the use of force, random or blanket searches, the use of drug dogs and the collection of bodily samples.
Labour Party education spokeswoman Nanaia Mahuta said there was no place for drugs in schools and the Government should set out clear guidelines on searching students in the bill.
Submissions for or against the bill close on January 24, with a report due out in April.
For more articles from this region, go to Northern Advocate