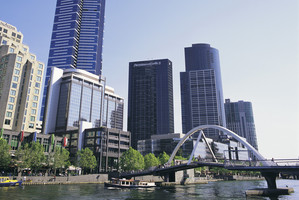 Just 10 universities split the majority of Nobel Prizes - and Auckland's waterfront may be the only place in the world from which to break into the game.
Equity analyst Michael Parker, in his book The Pine Tree Paradox, argues that New Zealand's chance to become a world-leading economy could be on our wharves, with a true research university to rival Stanford.
Auckland's waterfront has the rare combination of culture, language, legal and tax systems, lifestyle and desperation to make a run at a bold vision - a concrete plan for economic revival, he says.
"Remember that currently the 'best-case' scenario that anyone is proposing for Auckland's waterfront is to get the used cars off the finger wharves and turn those wharves into public spaces with bars, restaurants, cafes, entertainment venues and moorings for international cruise ships. In other words, the best-case scenario is an extension of the Viaduct Basin," he writes.
"Therefore, go down to the Viaduct Basin at 11.30pm on a Friday night. Walk into any of the pubs down there and take a look around. As you stand there among the drunks, with the smell of spilt beer, vomit and tomato sauce in your nostrils, remember that our economic standing has declined from 5th to 27th in the OECD in the last 50 years ... And, finally, remember that the inebriated fools surrounding you ... are the 'best-case' scenario that Auckland's city elders can come up with for what to do with the most valuable and prominent land in New Zealand," Parker says.
The book, published in 2010, says agriculture cannot lead New Zealand to outperform the rest of the OECD. Value-added produce is not enough.
"If you want to grow one pine tree, come to New Zealand. If you want to grow a million, go to North America."
Policy tweaks and boosting funding for public universities cannot make us match the best.
"We now have a window of time - maybe five or 10 years - before something is built on the Marsden Wharf and Captain Cook Wharf sites."
New Zealanders wanted a liberal, wealthy, egalitarian, democratic, capitalist, educated, green, multi-cultural, secular meritocracy: "We should build an institution that celebrates and declares this aspiration."
New Zealand's economic position has deteriorated for 50 years. Many New Zealanders should be frustrated by that - and by having no solutions to take a bet on, he says.
A world-leading university could foster a cycle of innovation supported by investors, Nobel laureates and a creative class of residents. It would create economic progress.
A private research university would have to be funded out of private donations to build an endowment worth billions - from about 5000 donors willing to contribute $10,000 a year each.
"Here is the bet at the centre of my argument: give the New Zealand people a concrete plan for economic revival and how to improve our negative social and health outcomes ... And stand back and marvel at our capacity for determined struggle towards an audacious and difficult goal."
Melbourne
Melbourne's waterfront Docklands has an ice skating rink, amusement park and film studios.
The development, on former port land, was kick-started by the construction of an AFL stadium in 1996, and accelerated from 2000 on.
It is a large area, at 200ha of land and water, and 2km away from the CBD. The original development featured apartments, restaurants and a marina before expanding with shopping, business, parks, entertainment, dining, sporting events, community events, arts and culture.
But the area is often criticised for lacking the character of the rest of the city.
One mayor said it lacked "social glue". It also has a troublesome ferris wheel, which failed soon after opening.