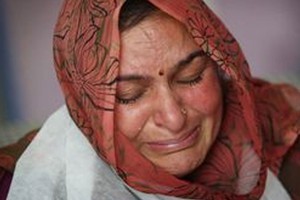 Police are being investigated over claims they tried to force a woman to sign deportation documents in a case that could tear apart a family facing a return to the slums of India.
The family faces the agonising decision whether to leave their Tauranga-born son in New Zealand or take him with them.
Pooja Kapila, whose husband Satinder is in Waikeria Prison awaiting deportation, was so desperate to avoid what she says is the death sentence of being returned to the slums of the Punjab that she refused to sign the documents presented to her at their Te Puke home on October 21.
An investigation has been launched over allegations that two police officers then prised open her clenched fist and forced her to put her thumb print on deportation travel documents.
Mrs Kapila said that so much force was applied to open her fist that she needed medical attention.
A doctor's report detailed minor bruising and swelling to fingers of the right hand, marked tenderness of the fingers and thumb and a marked decrease in the range of movement.
Speaking through an interpreter, Mrs Kapila said it had been a cruel and painful experience that left her very distressed.
Going back to a Punjab slum meant they would die because they had no housing, no money and no hope.
The episode has left the family in turmoil. The Kapilas arrived in New Zealand 10 years ago and immediately headed to Te Puke with their 3-year-old daughter Simran - now in her first year at Te Puke High School.
And while they were overstayers Mrs Kapila gave birth to son Abhay, making him a New Zealand citizen.
Although Mrs Kapila's thumb print was now on Indian travel documentation for her and her daughter, she and Satinder have refused to sign a passport application for their son.
It means that if immigration consultant Tuariki Delamere fails to win an appeal on humanitarian grounds, the boy cannot accompany his parents back to India.
A distraught Mrs Kapil told the Bay of Plenty Times that they would rather leave their son to give him a brighter future in New Zealand.
Until the raids last month, the Kapila family had never considered themselves illegal overstayers because they had spent years paying an Auckland lawyer to act for them to secure permanent residency - and they had the receipts to prove it. It turned out that the last visa extension application filed on their behalf was in 2005 even although they believed the lawyer was acting for them up until last year.
They had earlier been refused refugee status.
The family's plight was further confused by their daughter receiving permission from the Ministry of Education to remain at Te Puke High until at least the end of next year, even although the deportation documents also covered Simran.
The alleged incident on October 21 in which the police acted on instructions from Immigration New Zealand was witnessed by neighbour and landlord Reverend Marilynn Williams, an Anglican Deacon and Justice of the Peace.
She said that she was aghast when she saw the police prise the index finger and thumb free from Mrs Kapila's tightly clenched fist, forcibly place her thumb on an ink pad and then press it on to the documents. The process was overseen by an immigration officer from Hamilton.
Investigations now under way into the alleged incident by the Independent Police Conduct Authority and Immigration New Zealand were the result of a complaint by Mr Delamere - a former minister of immigration.
Immigration New Zealand acting general manager Peter Elms said: "Immigration takes such allegations very seriously and has acted swiftly to establish the facts."
However, it was inappropriate to comment on the case until the Police Complaints Authority had finished its investigation, he said.
The Bay's police district commander Superintendent Glenn Dunbier said the police were asked to obtain fingerprints by an immigration officer with whom they had worked on several occasions.
"There has been an allegation made. We are disappointed about the use of such emotive language and the nature of the claim."
He said the independent investigation would look to establish whether the matter was handled correctly.

For more articles from this region, go to Bay of Plenty Times