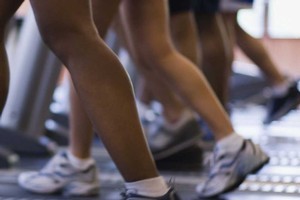 A new national training centre for high-performance athletes has opened at AUT's Millennium Campus - and it has everything from temperature controlled chambers to super-fast treadmills.
The $29 million project was to have been ready by May but has been brought forward so it can be used by athletes training for next year's London Olympic and Paralympic Games.
It will also play an essential part in preparing athletes for the 2016 Olympics and Paralympics in Rio de Janeiro and beyond.
The expansion, which doubles the current floor space at AUT Millennium Campus, will be home to AUT's Sport Performance Research Institute, the headquarters of High Performance Sport New Zealand, the High Performance Strength, Conditioning and Recovery Centre, and expanded sports medicine services.
The laboratory has $2.4 million of equipment including a temperature-controlled environmental chamber, and a biomechanics lab that produces 3D images of athletes' running styles.
"The National Training Centre is a world-class training and research centre which will help our athletes and their coaches in their quest to become even more competitive," said Mike Stanley, the chief executive officer of AUT Millennium Trust.
Sport and Recreation Minister Murray McCully, who officially opened the centre, said the Government had a clear vision for the centre's role in high performance sport.
"We want to make New Zealand one of the most successful sporting nations in the world and that's why we are committed to making the most significant funding injection into high performance sport that New Zealand has ever seen," said Mr McCully.
"Annually, more than $60 million will be spent on high performance funding, creating a significantly more ambitious framework for high performance sport in New Zealand, and the National Training Centre is a key part of this."
AUT vice-chancellor Derek McCormack said the university was New Zealand's leading sports science research university, and had internationally renowned experts in the areas of physical conditioning, performance analysis, biomechanics, exercise physiology and injury prevention.
"Research from the institute will assist high-performance athletes achieve their goals and also be used to improve the health and well-being of all New Zealanders."
High-tech site
* A new $29 million training facility for high-performance athletes has opened at AUT's Millennium Campus.
* New equipment includes a super-fast treadmill and a biomechanics lab that produces 3D images of athletes running.
* Project accelerated to allow London Olympics and Paralympics athletes to train in the new facility.