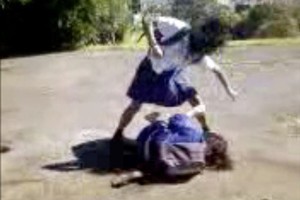 More acts of violence involving teenage girls have been caught on camera.
Horrific cellphone footage of an attack on a 15-year-old Wanganui Girls' College student has been followed by brawling girls at the Westfield St Lukes mall in Auckland. It has prompted police and school action.
Two violent incidents in two weeks have rocked the mall.
In the first, two girls from Mt Albert Grammar School, aged 13 and 14, assaulted an Indian man in his 40s on a concrete stairway.
"It was an unprovoked attack," said Community Constable Stuart Mottashed. "The victim was kicked in the head by one of the girls." The victim and a young girl aged about 4, who had been with him, left distressed by the assault. It was captured on CCTV, but the victim was obscured by a wall.
The same two students were involved in a second incident in the mall on March 22. An eyewitness who works at the mall, but did not wish to be identified, said about 10 girls took part in the "massive fight".
"They just started jumping on each other. One of the girls ripped another girl's shirt so she was fighting in her bra. They ripped out chunks of hair."
However, Mt Albert Grammar principal Dale Burden said the incident involved only four people - two current and one expelled student from the school and a female shopper.
But he described both altercations as "utterly despicable and disgraceful behaviour".
"Nobody expects to go to a mall and to be treated by 13- and 14-year-old girls, or by anybody, like this," he said. "It's very extreme. How did girls learn to behave like this?"
The two girls involved have been suspended from school and will face disciplinary action by the board of trustees. The school, supported by Westfield, also imposed a three-day ban on students going to the mall in uniform except under parental supervision while an investigation took place.
Figures confirm that girl violence is on the rise. In 2009, Statistics NZ recorded 1501 teenage girls aged 14-16 being apprehended for violent crimes, including assaults, intimidation and threats.
This compared to 1402 in 2008 and 1205 in 2007.
Westfield New Zealand general manager Linda Trainer said they were working with the school and the police to ensure a safe environment at the mall was maintained.