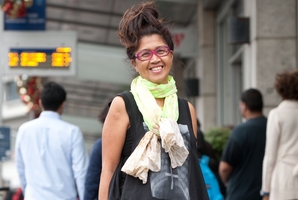 Yolanda Alba has already started her Christmas shopping, and says she is enjoying a very positive start to the festive season.
The Auckland mother of two recently started a new business bringing South American students to New Zealand, after selling another business last year.
"I think things are going to be a bit better," she said.
"I've just been overseas recruiting for my new business and just sold my landscaping business that I had for nearly 13 years.
"I sold it nearly 18 months ago so that's a sign that people are buying - well, that's my experience that they are."
Ms Alba said consumer confidence in New Zealand was higher than in other countries she had visited.
"I think people have got over the recession and are moving forward. I just had lunch with my eldest daughter and she is going into a new job at a travel company from working in retail ... so things are good."
Ms Alba said she had started her shopping early this year to avoid stress, and had already bought a number of gifts for loved ones.