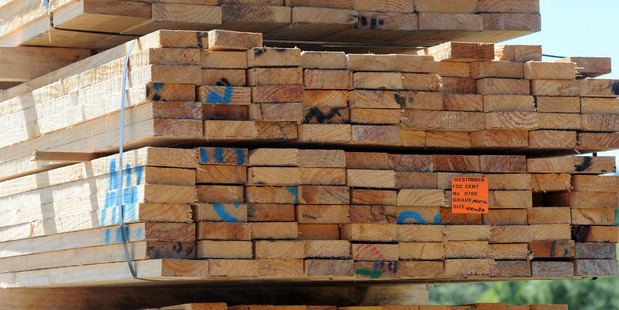 A weaker New Zealand dollar and signs of life in the US housing market have combined to drive the share price of timber products group Tenon higher.
The strong kiwi has in the past proven to be a major headache for Tenon because most of its sales are in the United States, so executives would have been happy to see the currency start to unravel early this year.
The New Zealand dollar traded yesterday at US79c, down from its peak in April of US86.75c and well short of its post-float record high of US88.43c, which was set in August 2011. And after many difficult years, the house construction market in the US is improving.
According to the Joint Centre for Housing Studies of Harvard University, the US housing recovery is well under way.
"While still at historically low levels, housing construction has finally turned the corner, giving the economy a much-needed boost," the centre said in its latest report.
Tenon has some big US customers in home improvement retailers - The Home Depot and Lowe's - both of which have reported earnings improvements early this year.
Tenon - once part of the Fletcher Challenge group - supplies timber products to the North American housing market. It sources products and materials globally including from its traditional New Zealand base, which also serves the Asia-Pacific region.
Tenon's shares closed down 3c yesterday at $1.45, compared with just 60c this time last year.
GPG DELAYS
Guinness Peat Group's (GPG) share price hit a low of 43c last month after the Pensions Regulator (TPR) in Britain said it was looking at whether GPG should provide financial support for the Coats and Brunel pension schemes, but the stock has since perked up from what some regard as an oversold position.
Almost all the assets in GPG's investment portfolio are now sold but the issue of what happens with the pension schemes remains an impediment for GPG's ultimate goal of returning capital to shareholders and morphing into its main remaining asset - UK-based industrial thread and textile crafts business Coats.
In May GPG said it was in regular contact with the regulator but said that TPR investigations do not typically move quickly and the process could take many months if not years.
GPG said its capital returns had been suspended until it was clearer on TPR's position and pending the outcome of the independent review.
GPG has recognised that this process has introduced an "unwelcome level of uncertainty" into the transition and capital return process.
DILIGENT ROLLERCOASTER
Diligent Board Member Services' share price dropped by 17 per cent over four days last week, drawing a please explain inquiry from the NZX. Diligent replied that it was complying with its NZX disclosure requirements.
The stock has suffered some bad press lately after a string of corporate governance slip-ups. The company said on July 12 that it was delaying its second quarter earnings release by up to 30 days as it reassessed how it books revenue.
Diligent has had a wild ride over the years.
The company's shares listed at $1 in 2007, only to sink to 7c two years later.
The company occupies a highly specialised niche by providing an internet-based product that allows directors to manage, look at, annotate and review their materials.
Its headquarters are in New York but its shares trade in New Zealand, where it is subject to NZX listing rules. It is also a US company incorporated in Delaware and is subject to the US reporting and regulatory requirements.
Chairman David Liptak bought a 23 per cent stake in Diligent at 14c a share in 2009 through his New York-based investment firm Spring Street Partners.
Spring Street owns just under 5 per cent of the ordinary shares and 21.7 million preference shares.
Diligent last traded at $$6.33, up 23 cents, and has gone through a $3.50 to $8.20 range over the last 52 weeks.
MIGHTY RIVER FIRMS
Those thousands of Kiwis who put their money into Mighty River Power will be feeling less gloomy, now that the stock has picked up ground since hitting its lowest point of $2.20 last month.
Fund managers suggested the stock was firming as investors positioned themselves before Mighty River is included on the NZX 50 index on Monday. Mighty River will replace Australian phone company Telstra Corp on the index and will have a 2.97 per cent weighting.
Mighty River closed down 1c yesterday at $2.40.
SYNLAIT LOOMS
With Canterbury-based milk powder company Synlait Milk set to list on Tuesday, Stock Takes remains puzzled as to why the stock was finally priced at just $2.20 - the lower end of its indicative $2.05 to $2.65 indicative range - given the intense interest in the offer and in the broader industry on the whole.
Final pricing may have been sentiment-driven, given the effect Mighty River's less than auspicious debut on the NZX would have had on the market's confidence.
One investment banking source said anything over $2.20 would have put Synlait too far out of whack, on an earnings multiple basis, with Fonterra.
He also said the range was also unusually wide for an initial public offer, with the higher end calculated to accommodate anyone prepared to pay over the odds. In the end, he said a more realistic range for Synlait Milk would have been $2.05-$2.30.
RAKON MEN
Rakon has filed a stockmarket announcement in regards to the NZX Listing Rule 10.5.5(j), which covers "gender composition of directors and officers".
The specialised electrical components maker revealed that it had eight male directors and five male officers. So number of women in either role? Nil.
SUMMERSET WOMEN
Retirement village and aged care company Summerset doesn't have the same problem on the gender composition front.
CEO Norah Barlow has won two of seven awards at the Women in Governance Awards.
Barlow, who has led the retirement village and aged care operator since 2002, won the Gender Diversity in Leadership, and Excellence in Leadership and Governance awards at a ceremony in Auckland this week.
Barlow and Summerset were recognised for the role they have played in encouraging women into leadership roles.
Three of six members of the Summerset executive team are women, including Barlow.
- APNZ