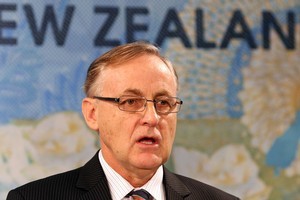 The Reserve Bank's Monetary Policy Statement released this week seemed on the face of it to be a non-event.
The central bank left the official cash rate (OCR) on hold and reiterated its downbeat outlook for the economy.
But it was the Reserve Bank's decision to further lower its forecast track for the 90-day bill rate that really caught the eye.
This caps an extraordinary year of forecast changes for the bank. It has changed the landscape for interest rates and helped reinforce a huge shift from fixed mortgages to floating rate mortgages.
In March, the Reserve Bank was forecasting the 90-day bill rate would rise from around 2.8 per cent then to a high of 6.5 per cent by the end of 2012.
That implied floating mortgage rates would rise to about 9 per cent from about 6 per cent. That was more than enough to encourage some to fix their mortgage rates for two years at about 7.2 per cent.
But since then, the Reserve Bank has begun to realise the huge stock of household debt has changed the way the economy responds to low interest rates. Unlike in previous years, low interest rates are not encouraging so many home buyers into the market to borrow more to buy homes.
Instead, many households and businesses are sitting on their hands. Worried banks are now even resorting to the age-old tactics of offering discounts on legal and establishment fees and trimming fixed mortgage rates to encourage borrowing.
These blandishments are boosting demand at the margins and life is beginning to return to some of the richer suburbs in Auckland and Wellington where tax cuts are helping to boost pay packets. But any heat is sporadic and not ready to spread into the suburbs on the fringes or into provincial areas.
This lack of activity in the housing market is one factor driving the Reserve Bank's forecasts for economic growth and the 90-day bill rate lower through next year and into 2012.
Now the Reserve Bank is forecasting the 90-day bill rate will only rise from 3.2 per cent currently to a peak of 4.4 per cent by the March quarter of 2013.
This suggests floating mortgage rates are only likely to rise to about 7.4 per cent over the next two years. That makes a three-year mortgage of about 7.1 per cent far less attractive, particularly for those who have benefited from being on a low floating rate for the last year. This has helped change the type of mortgages people are choosing.
Most fixed mortgages are now being turned into floating rate mortgages when they roll over.
The Reserve Bank confirmed this week the average time to reprice mortgages has dropped to just eight months from nearly 20 months at the height of the housing boom. More than 42 per cent of the nation's mortgages are now on floating rates, up from a low of about 12.5 per cent in August 2007.
This would appear to add power to the Reserve Bank's only monetary policy tool - the OCR - because any change will have a more immediate impact on household finances.
The irony for the Reserve Bank is that this week's Monetary Policy Statement made clear its monetary stimulus of a low OCR is not having as much effect as expected because home owners are not adding to their already crushing debts.
Borrowers can now look forward to floating rates remaining flat for the next six to nine months. Many, however, will choose not to add to their debts after that fright at the prospect of floating rates rising to 9 per cent.