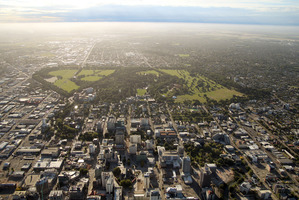 A group of Christchurch landowners whose empty sections lie within the red zone have refused to accept a government offer for their land, prompting fears a 50 per cent payout could bankrupt them.
The Government says that since vacant land cannot be insured, the owners should get half what insured red-zoned homeowners were offered - 100 per cent of their RV.
The affected property owners have petitioned the Government against the offer, saying they should receive the full payout. A petition, with more than 1500 signatures, was tabled in Parliament last month.
Their case was set down for two minutes' attention at the Finance and Expenditure Select Committee today, between 9.33am and 9.35am.
About 400 property owners have until March 31 to decide whether to accept the offer. Just five of 76 section owners on flat land have so far accepted it.
The remainder, who form the 'Red Section Owners' group, say they face an average loss of more than $100,000.
Earthquake Recovery Minister Gerry Brownlee has repeatedly refused to back down on the Government's position.
Nick Bryant, a spokesman for Mr Brownlee initially said today the minister would not make any further comment as he had already been quoted on the matter.
However, he later said the minister felt it was "a fair offer".
"I don't think I can elaborate any more on that."
Christchurch city councillor Aaron Keown says he has pleaded with Mr Brownlee to change his mind but the minister "won't budge".
"Of all the things Gerry has done post-earthquake, the majority he has done well - some really well - but this is the one he's got really wrong," Mr Keown said.
The decision was "unfair" and "unjustified", he said, fearing that many would face bankruptcy over it.
"The money involved is just small fry in the grand scheme of things, but this decision will absolutely stuff lives."
Mr Keown hoped that the committee would hear the evidence before "helping make Gerry see sense".
One affected landowner, John Goulding who has a red-zoned section in Brooklands, north of Christchurch, says the Government has been "inconsistent, unfair, and not transparent" throughout.
The Human Rights Commission is investigating their case, which Mr Goulding says has connotations for uninsured landowners across New Zealand.
"The only reason we were uninsured is because you couldn't buy insurance for a section," said Mr Goulding, who is a member of the Red Section Owners group.
"The thing is quite simple to me: Why is one bunch paid 100 per cent and another few paid 50 per cent? What is the reasoning, or the logic?
"Our loss has got nothing to do with the earthquakes, but comes solely from the Government's red zoning of the land."
New Zealand First's Christchurch Earthquake Issues spokesman Denis O'Rourke MP says the Government's deal amounted to compulsory purchase.
"In New Zealand when the Government compulsorily acquires private land it pays the full value of it. The 50 per cent offer is a departure from normal practice and is an affront to fair treatment.
"It has no rational basis when the land damage is minimal, bare land is uninsurable, and when full value is offered for the land component of insured red zoned homes."
- APNZ