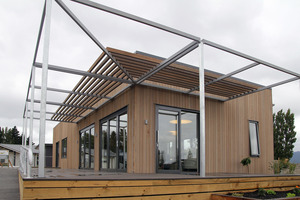 A high-tech eco-house so chockful of insulation that it doesn't require heating during an Auckland winter could solve Christchurch's post-earthquake housing crisis, designers say.
A factory-built show home went on display in Christchurch today with its developers claiming it provides a blueprint for warmer, healthier homes with lower power bills.
Recycled plastic bottles have been turned into insulation which wrap around its steel roof and wall framing "like Christmas presents".
And with photovoltaics for energy generation, solar water heating, a rain water tank, top-spec double-glazing, and wood pellet burner, The High Performance House will be warmer and more energy efficient than anything built before it.
The project is a collaboration between industry partners, New Zealand Steel, Frametek-RFS, InsulPro, Fletcher Aluminium and Resene, and has been project managed by Beacon Pathway Inc.
The Canterbury earthquakes have given developers a "once in a lifetime opportunity" to set standards in building for the rest of New Zealand, Beacon chief executive Nick Collins said.
Designed by award-winning architect Anne Salmond, the pre-fabricated 100 sq m two-bedroom house costs between $230,000 and $270,000.
Its developers say its comparable in price with its competitors, but say it's streets ahead when it comes to how quick it can be built and its energy efficiency.
"When you come to build a house, insulation is a very small cost item. But the more you invest in it, the warmer and healthier the home, and the lower the power bills will be in the future. It's a no-brainer," said Mr Collins.
He compared the evolution to houses over the last 30 years, with that of the automobile.
"A car built in 1983 just doesn't compare with a car built this year. It's miles ahead in every way. But houses haven't developed at the same rate."
Over the next year, while the home is on show at the Home Innovation Village (HIVE) at Canterbury Agricultural Park, its energy efficiency will be tested.
Humidity and temperature censors will gauge its success, while they will also monitor the thermal performance of its walls and roof to check if any heat is escaping.
Roger Sutton, chief executive of the Canterbury Earthquake Recovery Authority (Cera) who opened the show home last night, praised its innovation.
"The earthquakes have forced us to rethink the way we build homes, and it is innovative approaches like this which should be encouraged," he said.
"Having come from the energy sector, I think the focus needs to be on ensuring warmer homes with reduced energy costs. It is also important that any new building approaches are not out of the reach of home buyers."
While a similar home in Auckland built with lower insulation levels was found to not need any additional heating throughout a winter, with bedrooms staying above 16C and lounge to 18C, developers are as yet unsure it will cope in a harsher Christchurch winter.
A similar project is also being planned for Auckland.
- APNZ