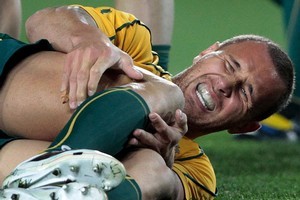 Welcome to the final edition of GBs-BBs. Over the past two months we've celebrated, tongue in cheek, the best and the worst of the myriad personalities that have made up this World Cup. Most have taken it in the spirit it was intended. Some, like James Haskell, haven't. But as the tournament draws to a close, we salute you all - even the bad buggers.
GOOD BUGGERS
The 44 players
The All Blacks have won the title, but the French brought the battle to last night's final. So to everyone who got to dress up and dance on the biggest stage of all, well done. Win or lose, you've done something few get to experience.
We know there's been a lot of grief flying the French way this tournament. Most of it has been deserved, but you can't deny they won the games that mattered. There are no style points in World Cups.
James O'Connor
Everything about him screams pain in the neck, from his Top of the Pops hair-dos to his dainty little socklets. But he's got four things going in his favour.
If his tweets are anything to go by, he's still like a kid in a candy shop; but unlike most kids in a candy shop, he's learned the art of losing gracefully. The boy can play, and seems to thrive on pressure; finally, he learned everything he needed to at the Te Atatu Roosters.
Bold prediction time: O'Connor is going to be a thorn in the side of the All Blacks for a number of years to come.
Stadium of 4 million people
How that pitch was mocked, but it proved a masterstroke, galvanising the country for a two-month party. Quite cunning, too. By final whistle last night, New Zealand's population was estimated to be 4,416,780.
So whenever a miserablist pokes his or her head out of the cave in the next few months to say "It cost too much" or "Told you there would be no lasting positive legacy", you can reply by saying, "Well, you're clearly one of the 416,780 troglodytes that didn't come to the stadium then, aren't you?"
BAD BUGGERS
Mugging politicians
This is a pre-emptive strike against the worst kind of "celebrity" parasites: politicians who pose for pics with winning captains and coaches and certain pieces of silverware. Given New Zealand was in the final, there's at least a 50/50 chance we'll be in possession of the Webb Ellis Cup this morning.
By unhappy coincidence there's a general election on November 26. You can almost see the cogs clicking into place at Party Machine HQ. "Forget policy launches, let's get our leader alongside Richie McCaw instead. If New Zealand lose, we've got the fallback option of kissing a few babies at Westfield St Lukes."
Referees
They're an easy target but sometimes you have to scratch your head and wonder what criteria the IRB cronies have used to select their refs and touchies for the big games. There were one or two flashpoint incidents in pool play - step forward Nigel Owens - but generally things passed without much rancour.
We know the spotlight shines brighter on knockout rugby, but the standard of officiating seems to have gone backwards (the first two quarter-finals under Craig Joubert and Steve Walsh being notable exceptions).
The latest, and possibly greatest, shocker was the try to Shane Williams on Friday night. It happened under the noses of Wayne Barnes, not noted for his ability to tell forward from back, and assistant Romain Poite. It was so far forward that if you'd stuck a helmet and cleats on James Hook, you could have sworn he was Peyton Manning.
Quade haters
We're firm believers that if you pay large sums of money for a ticket, it's your democratic right to voice your opinion on proceedings, but for the tiny-brained minority who booed when he was carried, clearly in distress, off the field, you're a disgrace to your country.