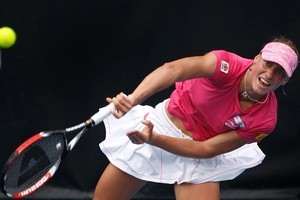 She grunts like a trapped animal, she wins in dominating fashion, she is tall and leggy and favourite to win the title here - but she is not Maria Sharapova.
As the Russian was stumbling about on centre court, doing a very good impression of a sub-100 ranked player, Belgian Yanina Wickmayer was giving another post-match sermon, delivered, as ever, without colour or frivolity. Her 6-0, 6-2 63-minute destruction of Simona Halep was bloodless in its execution.
Bigger and stronger than her opponent, Wickmayer did not give her the opportunity to find any rhythm or consistency. After two surprisingly hard-fought victories, yesterday's stroll in the domain was exactly what the defending champion wanted.
"Maybe the score doesn't say much because it was a tough match," Wickmayer said without conviction. "She had a lot of chances in that first set, I was 40-0 down a couple of times but grabbed it back."
True. But even when Halep was able to string a few points together, which was rare, there was never a sense she was anything but a contested training session for the world No 23.
"I just tried to make the points as short as possible. I had two tough ones in the first two rounds so a shorter one gives me more energy for today."
Wickmayer is two matches away from becoming the third woman, after Patty Fendick and Eleni Daniilidou, to successfully defend her title here.
There is little doubt she is hitting the ball harder and more consistently than anyone here, she is moving fluently, though when you get to the semifinals there is far more to lifting trophies than ball-striking and footwork. Mental toughness, which in tennis translates to the ability to make the right shots on crucial points, counts for as much as pure talent.
You can take it as read that few can better her in this department either. This time last year Wickmayer's future lay in the balance when the Flemish anti-doping organisation reported her for failing to meet her "whereabouts" obligations.
She was immediately disqualified from the year-ending tour championships in Bali and hit further when the doping tribunal announced a one-year ban. After appealing the decision was lifted and she was accepted in to the ASB Classic as a wildcard.
Some wildcard.
Wickmayer never dropped a set on the way to the third WTA title of her career, showing an ability to block out the uncertainty over her immediate future and to rise above the sideways glances of those who might not have been as convinced by her reasons why she failed to meet her "whereabouts" requirements.
On court it certainly does not lot like there is much chance of anything penetrating her tough exterior.
Put aside her grunt, a double-syllable squeal that might not rank alongside Sharapova in decibels but is every bit as disconcerting, and she is undemonstrative. There is little of the excessive fist-pumping, even on opponent's mistakes, that plagues the modern game and yesterday she was even admonishing herself when she was winning points.
So it should not come as any surprise when she was asked how she was going to make the most of her early finish yesterday. Fun parks, beaches or nightclubs didn't come into the equation.
"I will serve a little bit more, but not too much. I've had enough tennis, I will just look after my body a bit. I have to serve some more in the wind. That's one of the big points I have to keep working on." Not very glamorous - just successful.
YANINA WICKMAYER
* Birthplace: Lier, Belgium
* Age: 21
* WTA titles: 3
* Ranking/seed: 23 / 2
* Career high ranking: 12
* Win/loss record: 215 / 96
* Career prizemoney: US$1.5 million