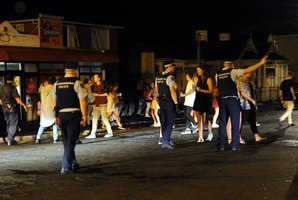 Student behaviour in Dunedin appears to be improving, with a significant drop in students being dealt with by the University of Otago for serious incidents.
Disciplinary figures released to the Otago Daily Times under the Official Information Act showed in the year to the end of July five students had been referred to vice-chancellor Prof Harlene Hayne - who deals with the most serious disciplinary cases - compared with 13 in the corresponding period last year.
Prof Hayne dealt with the five students in relation to three separate incidents, including one involving two second-year students "dancing" on the back of a fire engine, which incited a large crowd and resulted in bottles being thrown.
Both were punished with exclusion for the first semester, which was later amended on appeal to exclusion for the second semester.
Another case involved a second-year student who helped carry a couch outside on Leith St and then lit it close to two dwellings.
This student was excluded from the university for the first semester.
The numbers of students dealt with by the provost dropped from 20 in the first half of last year, to seven in the same time this year, and the number going to the proctor dropped from 271 to 247.
The proctor also deals with Otago Polytechnic students and non-students caught trespassing on university grounds.
Student services director David Richardson said it was too early to pin point the reasons for the decline.
He noted a decline in the number of students fined by the proctor's office, from 77 in the first half of last year, to 39 in the corresponding period this year. The total value of fines also dropped, from $8030 to $5585.
The number dealt with for fuelling or setting fires also dropped from a combined total of 60 in the period last year, to 28 this year.
Otago University Students' Association president Francisco Hernandez said the drop in students being disciplined was pleasing.
"The feedback we've had from police, the university and the wider community is that in general University of Otago students are behaving well and trouble makers are a minority," he said.