'Weak judge undermines police' by giving sports rep a discharge and name secrecy.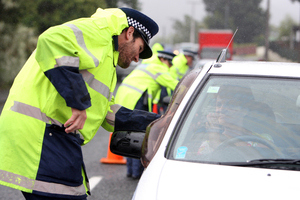 A long-serving traffic officer says a judge's decision to discharge a drink-driving sportswoman without conviction has made a mockery of the system and undermined police.
Former cop Stu Kearns, who headed the Waitemata serious crash unit, was outraged by Judge Graham Hubble's decision to discharge a high-level sportswoman caught driving at twice the legal limit.
"It's absolute bollocks ... it just beggars belief," he said. "From what has been reported, it is disgusting. It's a mockery, and it makes the job of the police a lot harder. People the police process for drink driving now will say, 'Oh well, that athlete got off', and think they can too.
"The police did their job, brought this person before the courts and they were let down by the system and a weak judge. It's pathetic."
Police confirmed yesterday they were considering whether to appeal the decision, made last week in the Gisborne District Court. Judge Hubble also granted the woman permanent name suppression.
Mr Kearns, who attended more than 1000 crashes in his 28-year road policing career, said the decision undermined police efforts to reduce drink driving.
"If I was the police officer in charge of the case I'd be absolutely disgusted. I sincerely hope they appeal this decision; it has set a dangerous precedent," he said.
"The judge needs to realise that at twice the legal limit, this woman was probably lucky that she didn't have a crash and injure or kill someone.
"Just because she didn't, the judge seems to have forgotten how serious the offending was. To say, 'You're an athlete and we don't want to impinge on your ability to compete overseas', and discharge her is wrong.
"Tough - that's a life lesson maybe she needs to learn and feel the brunt of, not a slap on the wrist for driving twice over the legal limit."
Mr Kearns acknowledged that judges could use their discretion and choose not to convict a person if there were extenuating circumstances.
"But I think a decision like this is simply an abuse of that discretionary power. Woe betide if she decides to get behind the wheel again while drunk and hurts or kills someone.
"Judges are supposed to be last line of defence and they are supposed to protect the community as much as police."
He said it looked like the woman received preferential treatment due to her sporting status.
"It's really quite outrageous that people of different standings in the community are treated differently in court. The law is supposed to be for all New Zealanders - not select members of the community. Just because someone's got some status doesn't mean they should be immune from prosecution."
The sportswoman's lawyer, Marcia Insley, did not respond to messages.
But soon after the Herald asked the police whether they would appeal against the decision, an announcement was made that they were "taking legal advice".
"Police will now be seeking advice from Crown Law on whether an appeal against the decision will be lodged. Police have also confirmed the woman is not well known nationally and does not play a mainstream sport," they said.
"No further comment will be made from police regarding this matter until an appeal decision is made."
Crown Law Office spokeswoman Jan Fulstow said she could not comment on the case.
"This matter hasn't been referred to us as yet but I understand the police are going to."
Drink-drive discharge
Do you know someone who has received a discharge without conviction for drink driving? Email anna.leask@nzherald.co.nz.