Neil Emblen is transforming a once-nondescript club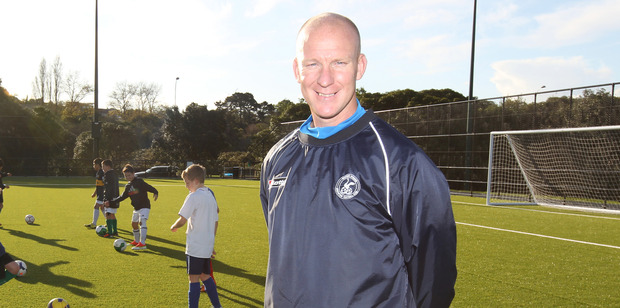 He's coached at the Olympics, sat beside Ricki Herbert on the All Whites bench for the past 18 months and played in the English Premier League but yesterday Neil Emblen was putting a group of nine year olds through their paces within a stone's throw of Auckland Zoo.
"Pass and move, pass and move," commands Emblen, watching the eager youngsters from the sideline.
Over the past nine months, Emblen has overseen a quiet revolution at Western Springs, a modest central Auckland club that rarely raise their head above the parapet.
The 42-year-old won three successive ASB Premiership titles at Waitakere United but found himself unwanted on his return from the London Olympics.
Emblen received offers from around the country but a phone call from a Western Springs committee member piqued his interest.
"I kept an open mind," says Emblen. "It was a bit of a gamble but I liked their philosophies and their goals. But to be honest I was more impressed when I walked into the place.
It was an incredible facility and you could see the potential."
Potential was the key word. Despite always having a huge junior base, the club had failed to make an impact at senior level since their inception in the 1950s. Sporting excitement in the suburb came from the storied Ponsonby Rugby Club, or the exploits of Sleepy Tripp and Barry Butterworth at the neighbouring speedway. Western Springs rarely progressed beyond the lower reaches of Northern League football and any promising juniors were whisked away by other clubs as quickly as they were discovered.
For Emblen, going from the ASB Premiership to Northern League Division Two (the fourth tier of football in Auckland) was a considerable drop; think going from the Blues to Manukau Rovers.
"I'd never watched a division two match," admits Emblen. "I had seen some division two teams playing in the Chatham Cup but I didn't really know what I was letting myself in for. But football has the same principles and philosophies whatever the level."
Change at Western Springs began last year, when a project to extend the clubrooms and changing facilities (doubling them in size) was completed. This season three new artificial pitches were installed, in a $2 million venture that has created arguably the best all-weather football facility on the isthmus.
Emblen's arrival created a stir, with more than 60 hopefuls attracted to trial for a first-team spot. Many were disappointed - only a handful were retained from the previous year - and the club had to create an additional senior team to cater for the demand.
Success has followed. Last week promotion to Northern League Division One was sealed for only the third time in the club's history and a 2-0 win yesterday evening over Albany clinched the title. Friday and Saturday night games have moved beyond the three men and a dog analogy and now crowds in the hundreds regularly attend. There is a buzz around the club.
Emblen helps run the club's development sides, oversees the numerous junior teams (there are 1100 junior players) and even trains with the club's over-35 sides.
"He comes down for a knock around and we all lift our game - he has brought a lot of energy to training," says club chairman Martin Bell. "He is recognised around the club and I think everyone looks to raise their own standard. I've seen improvement at all levels."
Emblen has built intra-club links by encouraging first-team players to coach junior sides and has also put an emphasis on youth, with players as young as 15 and 16 getting their chance with the top side.
"You can't change everything at once but hopefully we are building something little by little," says Emblen. "You want to be successful with the first team but at the same time try to give back some of your experiences to the rest of the club and be there for everyone."
Meanwhile, with the club season almost over, Emblen's focus will soon switch to the All Whites. There are four games in the September and October Fifa windows, before the World Cup qualifiers in November.
"The games in September will probably be more about looking at who is in good form, with a couple of positions up for grabs," says Emblen. "In October, we might have to play the shape we are going to play (in November)."
Beyond this campaign, Herbert has indicated he will be stepping down as head coach, whether the end comes in late November or next June. Given his domestic and international experience, Emblen would be seen as one of the leading local contenders to replace him.
"It would be a huge job," says Emblen. "I am not sure when I would be ready for it. I feel like one day I would love to do it if I keep proving myself and being successful with whatever level I am working at.
"Right now, we are just focused on this campaign. I desperately want to go to Brazil, like everyone else involved in the squad."