Danielle Wrightheads poolside to find out about the sport of high diving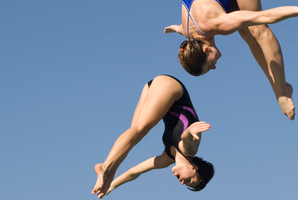 Diving began when hardy souls took the plunge and jumped from rocks and cliff peaks.
The sport as we know it today developed from gymnastics and was known as "fancy diving", when gymnasts took their equipment to the beach and performed acrobatics to land in the sea.
It became an Olympic sport almost a century ago and now includes springboard, platform and synchronised diving. One of its biggest stars is young British diver Tom Daley, who used his popularity to front a reality diving show called Splash!
I head to the Glenfield Leisure Centre on a Friday night to watch a coaching session with the Auckland Diving Club and meet Paul Hayes, a father with two children in the sport - Nicholas (10) and Jeremy (12).
They became keen on high-diving after last year's Olympic Games and, in less than a year, they're already on the high boards, diving with confidence.
"The first time you're going to jump it's scary," says Jeremy, "but you just have to tell yourself it will be more fun the second time."
There are as many girls as boys in the class and I watch them belly-flop spectacularly and come up with huge smiles on their faces, spring high into the air from the smaller boards and drop from seated positions from the higher boards.
In between dives some do a few push-ups.
They wait for their turn as if they're about to whiz down the nearby hydro-slide, while Justin Bieber's I'm Alive pumps from a stereo. One girl dances to the beat as she waits on the high board platform. There's no coaxing them into jumping, they're loving it.
Bruce Megget is one of the coaches who trains the kids once a week and he tells me the classes start with a gym session combining stretches, exercises to strengthen muscles and technical diving exercises.
At first, the kids are just taught fundamental skills then they move on to skills test competitions focused more on good technique than on winning. Then there's age-group competitions and nationals.
At competitions, marks are given for the approach along the platform, position before dive, flight through the air and the entry.
"We aim for a 'rip', which sounds like the noise made when ripping a piece of paper," says Megget, who tells me it's occasionally dangerous, mostly to do with hitting the board.
"When I was competing, I once had to dive down to the bottom of the pool to pick up a friend's teeth after he'd hit his face on the board," says Megget. "You'll see lots of nasty accidents on YouTube, but it doesn't happen in our classes."
There's also an international diving language made up of numbers and letters in a specific formula. For example, a 101C is a Forward (1), no twist (0), 1/2 somersault (1) in a tuck position (C).
Megget adds that, as well as increasing co-ordination and muscle strength, it's a cheap sport: "All you need is a pair of togs."
Hayes, who admits he has a cold beer waiting for him after the last of the week's running around for after-school sports, says: "It's a bit of fun for the kids on a Friday or Saturday night and keeps them off the computer."
INTO THE SWIM
This weekend, Diving New Zealand Junior and Open Nationals, West Wave Aquatic Centre, Henderson (Saturday and Sunday, 10am-3pm or 4pm). See the best divers in New Zealand from age 12 through to Master's divers competing, including hoped record-breaking in the 1m and 3m junior events.
Come see a spectacular sport live.
For more information contact Auckland Diving.
There are around 75 members in the club's Learn to Dive programme - including adults. Training is between one and three times a week. Those in the Development Squad train up to 15 hours a week. Intensive holiday training camps cost between $103.50 (three days 9am-noon) and $172.50 (five days, 9am-noon). Mid-week and weekend classes are also available throughout the term. Contact Aurelie on 021 817 950 for times and costs for the right class for your child.