Men who have lost someone open their hearts in book to help those living with disease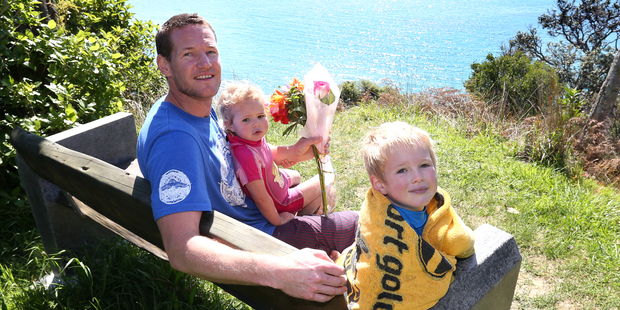 Kane Fannin took his two young children to the beach yesterday, a seemingly ordinary excursion in the school holidays.
But for Mr Fannin, his son Albie, 5, and daughter Indie, 3, the trip to Whale Bay near Whangarei was made to mark the one-year anniversary since wife and mother Nadia Fannin died of breast cancer.
The story of how Mr Fannin coped with his wife's diagnosis and treatment, and ultimately her death, is one of 18 in a new book compiled by writer Peter Calder for men who have a woman in their life with breast cancer.
Mrs Fannin was just 31 when she found a lump while breastfeeding baby Indie in late 2010.
On the advice of doctors, who initially diagnosed a cyst, she put off a biopsy so she could continue breastfeeding.
Eight months later the unthinkable happened and Mrs Fannin was diagnosed with breast cancer.
In his story Mr Fannin, a school teacher, describes the pain and grieving he went through, even before his wife died just months short of their 10th wedding anniversary.
He decided to detail his experience to Calder, who began the book She's Got Breast Cancer after his wife battled the disease, to help other men who might be suffering in silence.
"You're almost the left-out party," Mr Fannin said.
"I just thought if I can contribute in any way to people who are going through that same thing, then I'll be happy."
His advice to family and friends of couples confronting breast cancer was to "just be there".
"Just go and visit and let people know you're thinking of them. A particular mate of mine was really good to me and he just kept it a little bit more real and that's what I needed. Not really any pity."
Opening up to be part of the book helped Mr Fannin deal with some of his grief and anger and accept what happened.
"I was quite angry about that process [of misdiagnosis] because I wanted to be angry at something or someone."
One of his biggest heartbreaks was trying to explain Mrs Fannin's death to their children. To ease the pain of birthdays and special events Mrs Fannin pre-wrote cards for the kids for years to come, bought presents and made videos for them to remember her by.
Mr Fannin says now when the children are missing their mum they ask him to tell stories about her.
Going to Mrs Fannin's favourite beach yesterday with a group of friends and their families was as much about celebrating her life as it was a fun day out for the kids.
The families took a moment to sit and reflect on the past year at a bench seat Mr Fannin erected there in his wife's memory.
"We'll be going out there for a bit of a sit-down and will share a glass of her favourite wine."
Mr Fannin said he had his wife to thank for his new outlook.
"I'm more positive than I thought I would ever be at this stage, due to her strength of what she wanted for me and the kids."
Tales of loss
• She's Got Breast Cancer, compiled by Peter Calder
• Published by the New Zealand Breast Cancer Foundation
• Available in New Zealand later this month
• Free to men who want it