You don't have to splash the cash to see The Big Apple. Save your quarters by heading to some of these famous sites...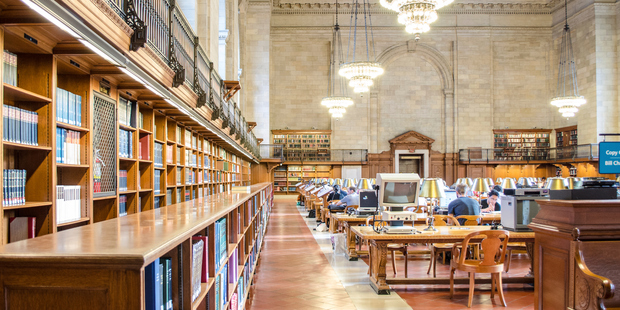 Governors Island National Monument
This 9ha path of green a few hundred metres off the southern tip of Manhattan in New York Harbour once could be accessed only by army or coastguard personnel.
These days, members of the public can take a ferry to the island from the Battery Marine terminal.
Once they're on terra firma, visitors can take 90-minute guided walking tours run by the park, which point out 19th century forts and offer viewpoints over the city.
Philanthropists made this grand beaux-arts building possible, fronted by marble lions named Patience and Fortitude.
You may have seen the library, especially its third-floor reading room with rows of long tables to sit 500 patrons, in movies Ghostbusters, Breakfast at Tiffany's and Sex and the City to name just a few.
The library has galleries of manuscripts on display and free tours happen twice daily Monday to Saturday, and once on Sundays.
High Park in Manhattan's West Side is a linear park created 10m in the air on a 1.6km abandoned stretch of railway track, sometimes hosting art installations and events.
The vegetation acknowledges the wild plants that colonised the abandoned railway before it was repurposed and the elevation allows great views of the Hudson River and the pedestrians below.
New York's best-known park is filled with statues, gardens, waterfalls and skating rinks and so much more, as well as lots of seats so you can stop and people-watch.
Catch the free Staten Island Ferry and see the Statue of Liberty from the water, saving yourself tour fees. The commuter ferry cuts across the New York Harbour, technically for transport between Staten Island and Manhattan.
Federal Reserve Bank of New York
Book ahead to marvel at the Federal Reserve Bank's high-security vault; 10,000 tonnes of gold reserves are stored here, almost 30m below ground.
The six tours each weekday are the only way to get into this Lower Manhattan landmark.
CHECKLIST
Further information: See DiscoverAmerica.com for more on visiting New York City.