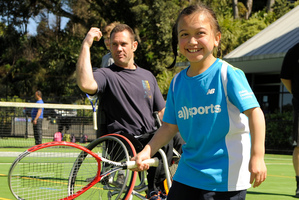 Just another day out? Try telling the 70 children from around Auckland who took part in the fourth Halberg Disability Sport Foundation's junior parasport day this week.
Take 9-year-old Matakorama Waipouri. She suffers from cerebral palsy, and mum Shelly Waipouri said the day at St Kent's School was a brilliant concept. Children with various forms of physical or sensory disability competed in sports ranging from shot put to track, goal ball, indoor blind bowls and boccia.
"It's absolutely awesome for Matakorama to make new friends, and myself and other parents who have children with disabilities to get together," Shelly said.
Matakorama said she really enjoyed being with the other children.
"Sport helps kids with disabilities otherwise we get bored. I like being able to play sport so I can be with other kids like me and we can support each other, because we all have different things that are wrong," Matakorama said.
She said she was grateful to the Halberg Trust for its continued support and the day meant a lot to her and her family.
Former New Zealand Paralympian and disability sport adviser for the foundation Stacey Roche said the day was a wonderful chance for young children with an impairment to experience the thrill of competition.
Roche said that her involvement at the Sydney Games, where the NZ boccia team failed to make the finals, taught her valuable life lessons.
"It's not about just winning, there's losing too. It's important for young children to learn these life skills early and sport plays an important role in that," Roche said.
Chief executive of the Halberg Disability Sport Foundation Geoff Burgess said the Foundation was proud to be able to offer what support it could.
"Sir Murray's aim was that sport should be used as a vehicle to enhance their lives, to give them social interaction, to give them enjoyment and physical fitness," Burgess said. "If we produce champions off the end of that then all very well and good, but it's that basic level of enjoyment, fulfilment and wellbeing."
Burgess added that he could see how happy Matakorama was when he spoke to her, and the look in her face spoke volumes about what was being achieved.
"When you see that [enjoyment] written all over their faces, you hardly need them to speak, you can see it's doing a really great thing for them."