Deborah Smith and Nicholas Stevens' garden is located on the ground floor level of their 1929 Parnell apartment building. It is a thin strip running along the building - but it works. Here, as part of a series of interviews with organic Kiwi gardeners by POD Gardening, Smith talks about her approach.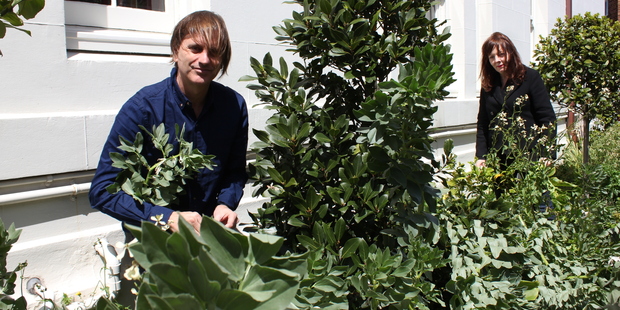 We started growing vegetables between the established buxus hedges and around the clipped bay topiary pieces five years ago. I garden with Nico (Nicolas), my nephew Jack and Claire - another apartment-holder in the building. Everything we put in has gone totally berserk. It's quite sheltered and gets plenty of sun. Nothing that I have tried has struggled to grow.
I have been inspired by three women in my life as a gardener. My mother Lorraine would enrol me in some weeding with her - I found this very therapeutic, especially as a tortured teen. When I was at school my best friend's mum Corrie Hughes was ahead of her time - really what I'd aspire to in terms of being a conscious consumer. She grew interesting vegetables such as artichokes that seemed incredibly exotic in the day. I remember making rose petal jam with her in Hastings when I was seventeen. It was a magical sort of alchemy to be able to make something edible and delicious from such a beautiful piece of nature.
My mother-in-law Julienne Stretton taught me about companion planting, feeding the soil and making liquid feeds on her Waiheke Island land. Julienne introduced me to sorrel - a favourite herb that we eat with olive oil and a sprinkling of garlic or in a salad.
I see gardening as a way of honouring my ancestors and myself. My grandfather Jack was a great gardener - the gardener at Cornwall Park in Hastings and a very proud Irishman with a garden where he'd love to grow potatoes.
I especially love our garden when it's really overgrown and feral and looks out of control. Because the layout of the garden here is so formal and I feel so relaxed about it, I don't get beat up if it doesn't look like Versailles. I like just being able to go down and pick something to eat from it - which I do almost every day - my favourite meals in the world are those that come out of my garden when I don't try too hard.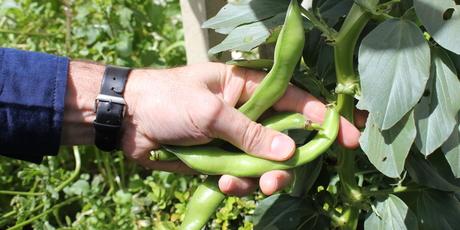 I feel a little bit f...ked up when plants get eaten by pests - especially if they haven't even made it onto the plate. Snails can be a problem but I just don't deal with them. My plan is to round them up on the next rainy day and then take them all to the Domain!
My advice is to just do it, just start. Grow basil, rocket and make your own pesto. Start with herbs - herbs can sex up the dullest dinner, they have beauty, smell, flavor and texture. There is no comparison! I would much rather a visitor turned up here with a bunch of fresh, homegrown herbs than a bottle of Moet.
Read the rest of the stories in the series:
• Fleur Sullivan
• Weleda's David Millin
• John Pountney
Like what you see? For weekly Element news sign up to our newsletter.
We're also on Facebook and Twitter.