Ben Crawford finds wise design in a flagship menswear store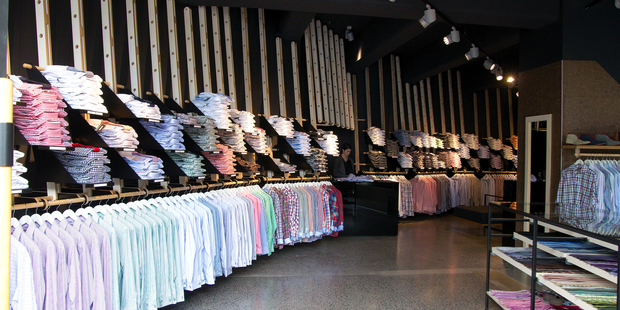 I'm greeted at the flagship store of 3 Wise Men in Newmarket by one wise man. A bit of an anti-climax, you might think. Kind of like expecting to interview The Jackson Five only to find Jermaine and Tito had slept in. And MJ has long since passed.
But it's not. Richard Miles, the one wise man welcoming me with a hefty handshake, is a very wise man indeed, and he taught me a design thing or two during our chat. However, first things first. How did he get to where he is now, running a highly successful menswear business on both sides of the Tasman?
Richard and two of his great mates started 3 Wise Men in 2004 over dinner and a few red wines. Like all good manly discussions, the conversation quickly turned to fashion.
The three friends had lived overseas,where buying business shirts was a pleasure. There was variety and quality on offer at prices unseen in New Zealand. The trio spotted a gap in the market to provide Kiwi guys with well-made, design-driven shirts at affordable prices.
But it was never just about price. It was important to create a brand befitting the product, the people behind the product and the people buying the product.
This wasn't a brand steeped in the tradition of an English tailor. It was new, fresh and free, with a licence to be a little cheeky, irreverent and fun. 3 Wise Men is certainly that and has become well known for its clever and humorous advertising.
However this is only part of the story, because the physical bricks and mortar experience is hugely important to 3 Wise Men. The company has eight stores, six in New Zealand and two in Australia and not one space is the same.
Each fit-out is approached on a case-by-case basis, looking at the space first to see what aesthetic its features and quirks naturally lend themselves to.
The Newmarket store Richard welcomed me into was once an old laundry for the hospital. It has a high stud, concrete beams and is full of odd angles, the exact opposite to the usual box retailer concept. Naturally, Richard loved the space and its potential.
Working with Dave Sweetman from design firm Space Studio, the fit-out began with continual reference to Richard's brief, ensuring a consistency across the stores without creating a themed chain. It had to have quirky and interesting design aspects, an element of masculinity, the product must be the hero and of course, it needed to be conducive to selling.
The end result is creative, unique and award-winning - 3 Wise Men took home a gold at the 2013 Best Awards in the spatial category. I love that everything is bespoke. A highlight is the tailor-made, Meccano-inspired, shelving system. Formed from strips of plywood and dowling, it provides a visually pleasing and flexible display solution.
Richard is justifiably proud of his flagship store and the business he has created over the past decade. I hope his successful recipe of weaving quality design throughout everything the company does continues for another 10 years at least.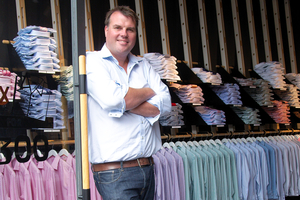 Ideas I gleaned from 3 Wise Men
• Recreate the store's pegboard shoe rack at home as a feature headboard. Drill your own pegboard with a well mapped-out grid and steady hand or most hardware stores stock it in panels. Cover the wall behind your bed from floor-to-ceiling then place pegs into the holes to create shelves for books and artwork or hooks to string bedside lights from.
• Before jumping into a renovation, take time to consider the space first. What style does its form, orientation or past use naturally lend itself to?
• The Newmarket store has a number of light boxes displaying promotional messages. Try this idea on the wall beside your dining table or in the kitchen. But instead of promotional messages, display menus and culinary related images.
• Make your family the focus in your own home just like 3 Wise Men does by ensuring its products are the heroes in every store they create. A well-designed home based on your needs will provide an environment that is effortless to live in, firmly placing you and your family on a designer pedestal.
• Create a unique and eye-catching bookshelf in your hallway or living area. Adopt a flexible rod and rail system like 3 Wise Men so that it can morph into new configurations over time as your book and knick-knack collection changes.
Ben Crawford is the author of the home design inspiration book Built For Caffeine and runs creative advertising agency Libby & Ben.