Meg Liptrot offers bright ideas on the change of seasons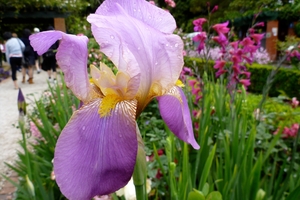 The first flush of spring is over and many of my bulbs have done their dash. The "Black Diamond" tulips had their brief moment in the spotlight, planted near the house so they could be admired in any weather.
Not long into flowering, high winds and storm bursts flattened the tulips, with their long tender stems, and the gladioli are still in disarray but their buds hold promise. It was a thrill to see the delicate nodding heads of fritillaria flowering in our garden for the first time after their stint in the fridge.
Better able to withstand this windy spring weather are the Dutch irises at our environment centre. Over the years they have multiplied into strong clumps and are a blaze of colour. The mix of vibrant and muted tones provided a pretty backdrop among the spring blossom of the fruit trees enhancing our newly planted bee garden.
Now the bearded irises are coming into their own. The frilled beauty of the 1934 heirloom variety, Destiny, in regal purple with striped throat is timeless and comes with a rich, musky scent.
This is a special flower for me, as the rhizomes were divided from large clumps in my grandmother's garden and is something by which to remember her.
A well-conceived garden should aim for something of interest throughout the seasons, rather than one burst of glory in spring. Even in winter, the architecture of the garden will come to the fore, by way of structural elements such as well-placed trees with interesting bark, clipped hedges or a sculptural piece. But achieving year-long interest requires planning.
Ours came about bit by bit as inspiration hit, as the dots were joined from one garden "room" to another. Each part had different conditions to contend with, plus numerous existing elements such as maturing trees, which cause soil and light conditions to change.
This can be frustrating, as great plans one year may come apart down the track. Gardens evolve and it is worthwhile to get ideas and recharge your thinking by going to events and visiting gardens to see how others have found solutions to a similar tricky area in their garden.
Although many gardens in these events seem impossibly perfect, don't be put off. Beauty is transitory and gardens are often at their best this time of year. I love gardens which are quirky, not over-designed and reflect the personality of their owner. It is enjoyable to have ongoing projects in your garden to get enthused about, whether it is a new arrangement for your pots, sorting out an unloved patch, or choosing a new rose or fruit tree. You may be inspired to choose plants for aesthetic or productive reasons, or both. Or perhaps a plant that has some connection with a loved one. If you're in need of inspiration, there is a smorgasbord of garden events this month that will whet the appetite, plus a treasure trove of gardeners, horticulturists and designers willing to share their secrets. The challenge will be what to choose and where to go first.
It's all happening in November
Today
• Turangi Garden Ramble; 14 gardens to visit to raise funds for Tongariro School Edible Garden Project. Tickets: local stores or email turangigardenclub@yahoo.com
• Dio Day Out: Gardens and Art, 20 private Waikato gardens are open as a school fundraiser. Bookings: diodayout@gmail.com
Design
• Auckland Garden DesignFest 2013, November 16 and 17, with 25 gardens open to the public in a celebration of landscaping, design and artistic talent. Explore the grounds, speak to each garden's designer, and gain inspiration. Go to www.gardendesignfest.co.nz
Roses, sweetpeas and others
• Parnell Rose Gardens: Parnell Festival of Roses, November 16 and 17. A perfect time to visit the gardens as the roses come into bloom. Free.
• The Auckland Rose Society Show is the same date at the Selwyn Library (opposite Holy Trinity Cathedral).
• Eden Garden Plant Fair, November 16 and 17. Speciality and heirloom plants on sale to raise funds for the garden's native butterfly enclosure. www.edengardens.co.nz
• Highwic Sweet Pea Festival, November 23 and 24. Celebrate this pretty cottage flower throughout Highwic's heritage house and garden. Sweet pea breeder Dr Keith Hammett will lead tours. For bookings and info, phone (09) 5245729.
Edible gardens
• For edible garden inspiration check out Local Food Initiatives Eden/Albert Open Community Gardens Weekend, November 16 and 17. For info and garden locations contact Kate.Sewell@aucklandcouncil.govt.nz
Sculpture
• Auckland Botanic Gardens summer sculpture exhibition, November 9-February 16. Features 23 large sculptures. Artist-guided trail walks, workshops, kids activities and music on Sundays.
• To find out about other garden events go to: www.nzgardener.co.nz and click "what's on".