Relax - you won't spill your cuppa with Greig Morgan's sturdy side table.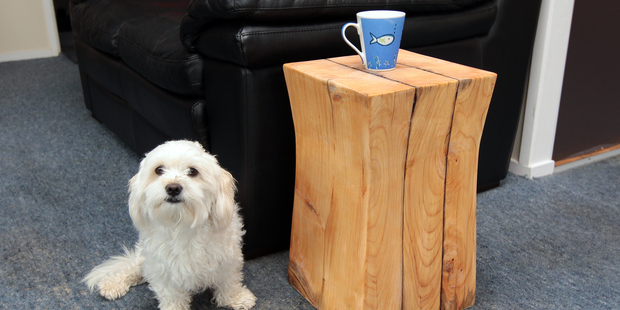 By the bed, by your favourite chair, outside where you sip your tea of an evening, there are so many nooks and crannies crying out for a rustic side table. Once you've made one, it'll be so popular everyone will want one. Just warning you.
Step 1
With a square measure, mark your piece of 300x100mm timber, and cut to length along waste side of the pencil line. Cut three lengths at 500mm. You will have to cut both sides as the blade won't cut right through the 100mm.
Step 2
Place the three pieces together and mark across the joints on top so you know where they line up when glued together. If the timber is bowed too much you will need to plane it down to get a good glue join.
Step 3
With the two outside pieces I measured 150mm down from the top and in 60mm, giving me the angled shape from the top down and the bottom up.
Step 4
Set the skill saw blade to cut maximum depth, now cut along the waste side of the pencil lines right around, and finish off by cutting right through using a sharp handsaw.
Step 5
With the outside pieces cut to shape, mix up your two pot epoxy glue - 4 parts resin to 1 part hardener (follow glue instructions for best results) and evenly apply it to the middle and outside piece. Rub the two joints together to force out surplus glue. Apply glue to the other side and repeat these steps. With the three pieces glued together and flush top and bottom, cramp the pieces and let dry overnight. With glue dry, remove cramps and mark the same shape on the jointed sides following the same cutting steps.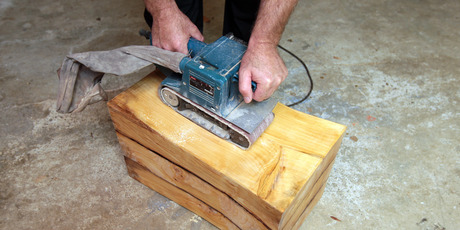 Step 6
Sand the completed side table with a coarse 60grit using a belt sander to remove all major saw cut marks, working your way down the sandpaper grades to finish with 120grit, if needed, for a smoother finish to the project. With a finishing sander also round off all sharp edges.
Step 7
Remove dust with a damp cloth first before applying the first coat of polyurethane, making sure to sand lightly between coats.
How a piece is finished is all-important if you want it to look professional, so read instructions first for best results.