Ben Crawford hides away for the weekend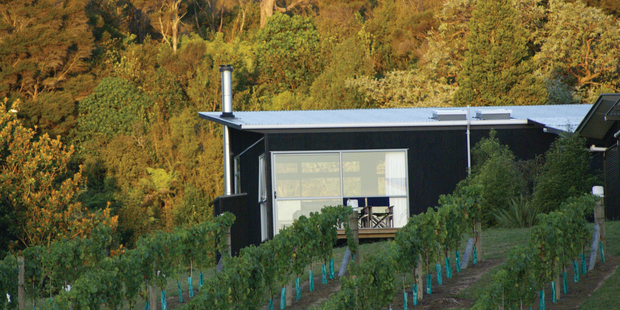 Like most Kiwis, I'd love to own a weekend hideaway. Somewhere to regularly escape to, unwind in and enjoy with loved ones as well as good mates. I don't even own my own home right now but I already want a second one. To be honest, I'd like more - one at the beach and another in the mountains. Hmmm. I'd better write a few more columns then.
In the meantime, while I concoct my get-rich-quick schemes, I'm content to make use of the fabulous getaway options on our doorstep. It's not a bad alternative. You only have to pay for the nights you stay. There's no mortgage to worry about and you have the flexibility to go wherever you want. A new location every time, even. Yes, please.
Last weekend it was Matakana's turn. We headed up the rain-soaked Northern Motorway on Friday afternoon bound for our accommodation - Riverside Matakana.
Surprisingly, neither of us had spent a night in Matakana and, equally surprisingly, the motorway was flowing freely, despite the downpour. The journey took less than an hour.
Now that's a handy hideaway.
Turning off just before Matakana itself and following the ridge-top road for a couple of kilometres, we arrived at Riverside Matakana.
A row of lights either side of the entrance led us down the steep, twisting drive and through rows of vines before opening out to a plateau, offering us the chance to survey the large property in its entirety.
Seventeen black, rough-sawn, timber-panelled baches scattered over 16ha, each morphing into the contours and folds of the land.
The warm glow from a gas fire within our house atop a small hill beckoned us, welcoming us in from the cold.
You know that feeling a holiday home provides - an instant veil of relaxation descending over you as soon as you walk through the front door? That's exactly how I felt entering our bach for the weekend.
A lot of those vacation-like feelings are created by the design of the structure, which is handy, because that means they can be recreated, allowing us to bring the holiday home with us.
Here are some of the design elements I found at Riverside Matakana.
Environment matters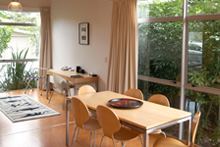 Baches and holiday homes are typically located in coastal or mountain locations, in areas of stunning natural beauty and often among fragile environments. The Riverside Matakana properties have been designed to softly sit within the landscape, working with the contours of the land and using materials that complement the setting. They blend in. So take note when building from scratch or remodelling your own home.
Work with Mother Nature and not against her by picking earthy tones and natural materials.
Bring the outside in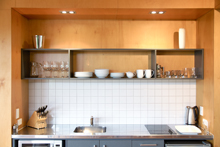 Holidays are about the outdoors. Beaches, water, sun and mountains. And most holiday homes don't let them stop at the front door; rather they invite the landscapes inside.
Bring that ethos home with you, even if you live in the city. Optimise the outlook you have by installing floor-to-ceiling windows for maximum visibility and use bi-folding doors to provide maximum accessibility to your deck, lawns and gardens.
Timber, timber everywhere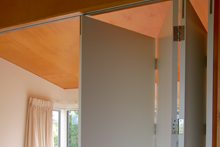 Holiday homes all have a sense of temporariness about them, even brand new ones They hark back to the days when they were nothing more than a lean-to. That back-to-basics aesthetic is often achieved through the choice of building materials.
The interiors at Riverside Matakana are made from plywood panels covering virtually the whole space, creating a casual sophistication. Recreate this vibe yourself in your own home by choosing plywood for kitchen cabinetry, bathroom vanities and bedside tables.
Flexibility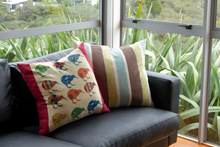 The sight of baches overflowing with people is common as friends of friends of friends camp out on the lawn or sleep on the sofa. This can impact on the living spaces.
Riverside Matakana has creatively installed moveable walls that concertina back to open up areas during the day, and then close at night to provide privacy for sleeping. A great idea to replicate, especially if your home is small.
Find It: Riverside Matakana, 170 Green Rd, Matakana.