Ben Crawford finds the best sites for all that's cool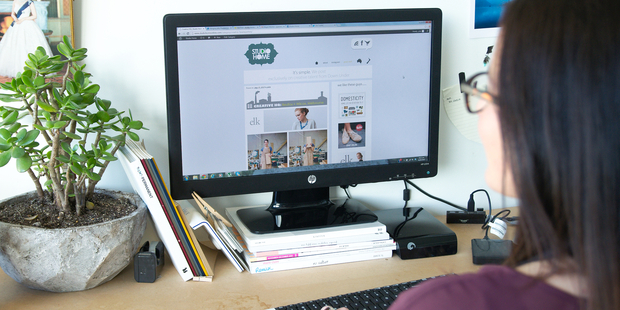 Let's be honest here. No idea is completely new. Sure, every day we discover amazing I've-ever-seen-that-before-stuff from clever folk around the world. But no doubt their a-ha moments came through observing, adapting, improving and innovating ideas that preceded them.
People often ask me where my ideas come from. I observe, I question and I ponder everything I come in contact with. Packaging, advertising, architecture, nature, fashion. Anything and everything. Sometimes they spark a solution to a problem or kick off an entirely new train of thought.
When it comes to design, I find online is where it's at. From the phone in my hand to the tablet on my lap, I can hunt out the coolest stuff from across the globe no matter where I am. And the beauty of subscribing to newsletters, Facebook pages and other updates, the cool comes straight to you.
Start building up your virtual creativeness library with some of my favourite sources of online design inspiration.
1. Studio Home
Julia Atkinson began Studio Home five years ago as a creative outlet to her interior design business in Wanaka. Since then, she's hung up her paint charts in favour of her keyboard and moved to Auckland to bring us a daily smorgasbord of awesomeness. So awesome in fact that she recently won a scholarship spot for Blogcademy, a development course in New York led by bloggerati heavyweights such as Gala Darling. The thing I love about Studio Home is its single-minded focus on the incredible design talents we have right here on our front doorsteps. Julia hits the road, hunting out and fossicking for the freshest, sweetest finds our neck of the woods has to offer. And let me tell you, New Zealand's creative industry is in a mighty healthy space. Every day Julia posts her discoveries in snappy, casual bundles of inspiration. From new furniture, lights and linens to interviews with designers and behind-the-scenes peeks into their workspaces and homes, Studio Home is a one-stop shop for fabulous ideas.
I love everything about Scandinavian design. The timbers, the muted tones and the simplified forms. Luckily for us, the Nordic Design blog is a daily feast of I-want-that-now content, from individual items of furniture to entire homes.
I only recently stumbled across Townhouse Mag and the content had me at hello. Billed as "your destination for premium living" it has a structural focus on stunning homes from around the world. There are plenty of clean lines and infinity pools to wet the most stylish appetite.
4. Share Design
The Australian team behind Share Design claim to be on a mission to help people enrich their lives with design. And they are. Every day their updates arrive in my inbox, provoking a half-hour of procrastination as I drool over their home and design inspirations.
5. Fancy New Zealand Design Blog
As founder Alana Broadhead puts it, Fancy is an online magazine devoted to the best design from New Zealand and around the world. Posting daily from her creative HQ in Mt Maunganui, I enjoy Alana's witty and somewhat random copywriting that accompanies everything from new furniture and lights to art and fancy spaces.
6. The Dieline
This is a different one. The Dieline is the world's most popular destination for celebrating the best packaging design from around the globe. Packaging is an art form and I get huge inspiration by studying everything from the typography used to the innovative methods of folding cardboard.
This American-based site predominantly posts about practical design for smaller spaces, which is refreshing given we don't all have the luxury of living in sprawling homes. Along with crafty ideas and DIY projects, Apartment Therapy is worth checking out, provided you filter out some of the American cheese.


• Ben Crawford and his sister Libby won the first series of The Block NZ. They run their own creative advertising agency, Libby & Ben. Find them at: libbyandben.co.nz