A little bit of this and that creates a profusion of colour and culture in a Northland home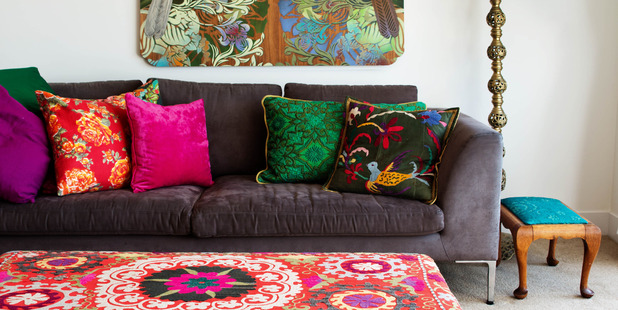 When Angie and Anton Masutti were looking for a place to bring up their three children, they couldn't go past the small settlement of Pataua South, east of Whangarei. It's a special place for Angie - six generations of her family have either lived at Pataua or had a bach there, and many of her childhood holidays were spent there.
"This is a vintage paradise in a way," says Masutti. "It harks back to days gone by and very little has changed here since I was a girl. We wanted our children [Cici, Rocco and Daisy] to have a lot of freedom while growing up and to be near their cousins - just like I was. Really, we live the essence of the traditional Kiwi holiday, except on a daily basis!"
The couple's house is one of about 80 sitting beside an estuary that forms a tidal lagoon on its way out to sea. From the moment they bought it they knew they would renovate and enlarge it. An architect friend of Anton's provided plans to add a bedroom, guest room and office, as well as more space for living and entertaining.
"The scale is a bit grander than we envisioned and when we first moved in we wondered how we would possibly fill the whole space," says Masutti.
"Now, with Anton and I both running our own businesses from home and a steady stream of family and friends staying, we sometimes think we should add on a bit more."
Though the home is painted white inside and out, it still manages to be colourful. Inside the Bohemian tropical interior (think Raffles Hotel meets Virginia Woolf) just about every colour is featured among the furniture, artwork, light fittings, cushions, drapes and throws that decorate the home.
"I'm a fan of vintage and the exotic - I love that high-end hippie look," laughs Masutti.
"Colour is important to me and I love the warmth that a mix of richly textured fabrics brings to a family home. They make it cosy and tactile.
"Maybe if we didn't have children we would have done this house quite differently, but I feel that when you have children a house has to have a heart, as well as being a useful and functional place. I like things to have an organic rather than a contrived feeling, so adding layers of colour, texture and pattern creates an interesting, eclectic vibe. You can mix things up in an interior like this. Most things will work and you won't tend to get bored as it's timeless.
"I love richly embroidered Central Asian fabric and I was wanting vintage furniture covered in it for decorative impact. When I couldn't find what I wanted I decided to buy my own secondhand furniture and have it covered with the fabrics I'd sourced. It looked amazing and had the delicious, eclectic style I was after."
Friends loved what she'd done, and before long Masutti was making pieces for other people's homes, leading her to begin her own decor business.
Style tips
Just do it: If you can't find something you want in the shops, roll up your sleeves and make it yourself.
Starting point: White walls don't necessarily make for a sterile environment. Indulge your love of colour in accessories and fabrics instead.
More is more: Avoid a cookie-cutter look by combining vintage pieces with items from other cultures.


Leanne Moore is the editor of Your Home & Garden. For more pictures of this home see the latest issue of Your Home & Garden, on sale now.