Little girls will love tucking their dolls up in this crib, writes Greig Morgan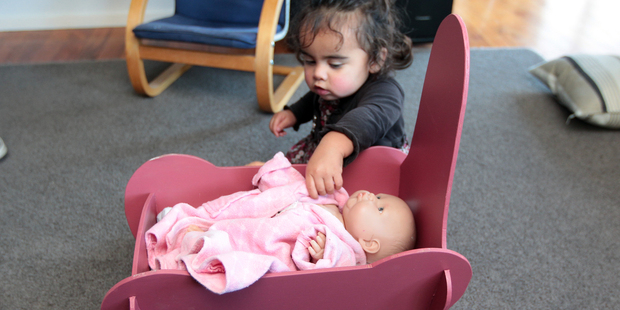 Little girls love putting dolls and cuddly toys to bed in a pretty cradle. Commercial ones are hard to find these days, so why not make one? This cut-out design means you don't even need a hammer or nails. Just make sure it's big enough to sleep her largest doll or teddy.
Step 1 - Take your MDF and sketch your design for the headboard and end of the crib. Put a curve into the base of each shape so the cradle will rock. Also sketch your design for the two side pieces.
Step 2 - Using a jigsaw, carefully cut around the outer edges of your pencil lines.
Step 3 - On the headboard and end board, measure in from the sides about 25mm, then down about a third of the depth of the side pieces. On the side pieces, measure in 25mm along the bottom edge and then one third up in a straight line. Cut these incisions to the 6mm thickness of the MDF to allow a nice tight fit.
Step 4 - Sand and remove all sharp edges as well as saw marks.
Step 5 - Paint all of the components separately before slotting them together. You may need to use a rubber mallet if the pieces are a little tight.
Step 6 - With the crib now assembled, cut a piece of trellis to neatly fit into the base. The tapered sides of the crib will stop the trellis from falling through. Sand to remove any sharp edges on the trellis before staining or painting.


Materials
• 6mm MDF
• Square trellis
• Paint
Tools
• Jigsaw
• Sand paper
• Tape measure
• Pencil
• Paint brush