Ben Crawford finds clean and simple works a treat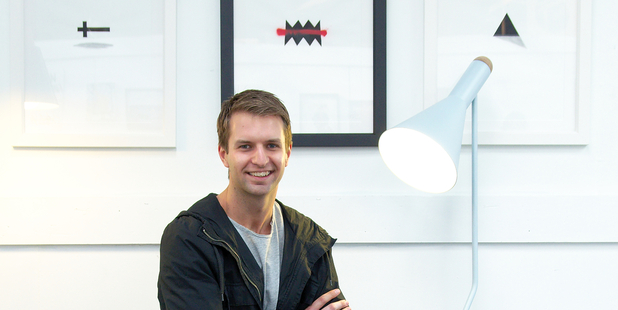 I first stumbled across Tim Webber's furniture a couple of years ago. Actually, I lie. I didn't stumble across his work; it beckoned to me from across the store with the same allure as a stack of presents at the foot of your bed on Christmas morning.
The pieces I'd spotted were his vibrant Y Stools and Tri Ampel Pendant lights. Beautiful, simple forms made from timber and metal in a variety of playful colours. Since then I've followed his work, salivating every time he dropped new items, from lamps and tables to sideboards and stools. Each release prompting an urge to race out and buy every single piece.
Last year, I was fortunate enough to meet Tim when he appeared as a guest judge on The Block NZ. He decided that the recycled artwork that Libby and I produced was the best on the day. I decided then, once and for all, that he really does have great taste.
So when the opportunity came to visit Tim in his Auckland workshop I jumped at the chance. I've always wondered how a furniture designer goes about doing their designing.

It's one thing to look around a shop and decide what you like, but it's next level brilliant to actually conceive the idea to begin with. I was keen to find out how he comes up with his new pieces and where he gets his inspiration.
I find Tim behind his Mac in one corner of the old mechanics garage his design studio calls home. The industrial space filled with furniture partway through assembly, prototypes in varying stages of development and racks of tools. We clear some space around one of his startlingly simple dining tables and sit down for a chat.
I love how his story began. In true Kiwi spirit, just six months after graduating from Unitec with a Bachelor of Design, he decided to give it a crack on his own, before he had too many commitments holding him back. That was late 2010 and he hasn't looked back, collecting a handful of awards and recognition since and is widely regarded as one of New Zealand's most exciting, up-and-coming designers.
Tim's furniture reflects his personal taste - clean, stripped back and simple, constructed using high-quality New Zealand materials. He strives to create great-looking objects that command attention in a room, but he demands that they be functional, everyday items that can be used regularly at home and in the workplace, not resigned to the corner like an overpriced museum artifact.
When I ask him where he finds his inspiration, he tells me it typically comes from everything around him, which he acknowledges sounds a little cliche. Disappointingly for me, ever hopeful to "borrow" a few secrets, Tim doesn't have any set procedure or strategy. Ideas just kind of germinate in his brain through the constant observation and consideration of things around him.
Sometimes it's a small detail spotted in a completely irrelevant place that sparks a thought or other times it's immediately obvious. For example his wrap stool, a plywood seat wrapped in place by its steel legs, originated from a chance action of clamping wood and steel rod together while playing around in the workshop. The sandwich effect it created caught his eye immediately, thinking it would make a seriously good-looking piece of furniture. And he wasn't wrong.
Overseas designers also provide untapped amounts of inspiration, especially their continual innovation in the manufacturing process.
But they also generate incredible motivation, fuel-injecting Tim's philosophy that just because he's from New Zealand, it doesn't mean he can't create world-class products from his suburban Auckland workshop. Amen to that.


Tim's three favourite sources of inspiration and motivation.
1. Dezeen
A blog containing the best architecture, design and interiors projects from around the world.
An international magazine filled with innovative interiors and designer interviews.
A young, UK-based furniture, lighting and object designer collaborating with some of the biggest brands in the industry. True inspiration for a young designer aspiring to do big things too.
• Visit timwebberdesign.com to view Tim's range and New Zealand stockists or drop him a line tim@timwebberdesign.com
• Ben Crawford and sister Libby won the first series of The Block NZ. They run their own creative advertising agency Libby & Ben, see libbyandben.co.nz