An Auckland couple carried out a metamorphosis of their central-city home and garden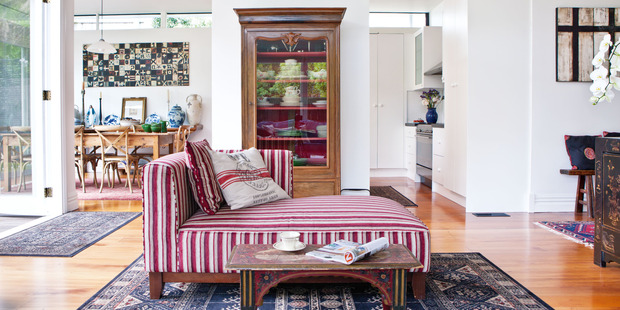 Wanting to downsize from their large family home, Jenny Hill and her husband Mike opted for a do-up in the Auckland suburb of Ponsonby. It was a radical change from their Remuera home but, after returning from Singapore in 2003, they were ready for a new challenge.
Jenny says the house was a typical 1900s villa, in need of tender loving care. "The upside was it had undergone an extension at the rear. I'm not averse to colour, but the entire interior was red - including the floors, kitchen and walls - there was no heating or landscaping, the garage had literally fallen down and the bathroom was very tired. Despite this, we could see the great bones."
Armed with their previous renovation experience, the couple obtained building consents for a garage, and an adjacent art studio for Jenny that would overlook the new garden and set to work.
"Mike and I drew up the plans and did the landscaping together, which was definitely a bit of trial and error, but we had a builder and architect involved to construct the garage and studio," Jenny says.
They also refurbished the bathroom and added heating throughout the house.
"I think the best money we spent was on heating, including underfloor heating in the bathroom, gas-ducted central heating in every room and two open gas fires," says Mike. "That, followed closely by the landscaping."
When it came to the decor, Jenny was in charge. "I'm a big fan of following my own style, which is a mix of old and new, sometimes a bit of a shock and always subjective."
The furnishings include some vintage, some new and some French pieces, a touch of Asian style and a mix of masculine and feminine, with the occasional surprise thrown in.
"I think our style has evolved over time," says Jenny. "But we have tried to make our larger items more of a focus, and ensure they can be moved from room to room when we feel like a change."
And, of course, there's always room for Jenny's paintings. Although she didn't pick up the paintbrush until she was 49, she's now a keen artist and the home showcases many of her works.
Although the interior tends towards the dark side due to the sombre palette of Jenny's paintings, she is a fan of neutral walls.
"I also like to throw a splash of red in somewhere, and blue and white have been making an appearance recently."
The couple's two daughters, Haidee and Kellie, share their mother's creative instincts and the trio set up a business, turning their garage into a showroom for Jenny's artwork and Haidee and Kellie's range of semi-industrial homeware and furniture.


Style tips
Indoor/outdoor flow: Try to plan your home and garden as one cohesive space, thinking about the views you'll glimpse through the windows and how you'll transition from inside to outside.
Solo space: If you need more room, consider building a separate studio rather than adding to the house itself - this will give you more flexibility in how it's used as your family's needs change.
My home, my gallery: If you can't find artworks you love enough to live with, try making your own. You might discover a new talent.


Leanne Moore is the editor of Your Home & Garden. For more pictures of this home see the latest issue of Your Home & Garden, on sale now.