There's nothing like the sound of chalk on blackboard, finds Anna Subritzky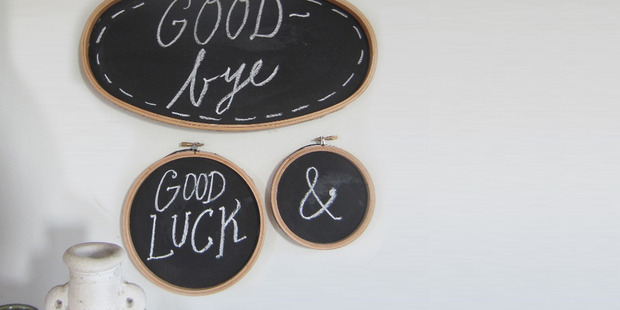 Since they were superseded by whiteboards, blackboards have become really nothing more than a novelty item, which is unfortunate, especially for those of us old enough to regard them with some nostalgia. Before my daughter's school was demolished, one classroom was rather like a time-capsule. It had been surplus to requirements for a number of years and still retained a number of its original 1950s features.
In particular, it sported a magnificent timber-framed and partitioned blackboard along the front wall, a relic of a bygone era when there were blackboard monitors whose job it was to clean the dusters when required and wash the chalk dust away at the end of the week. No classroom would have been complete without the class clown either, who made it their business to scrape their nails down the blackboard when the teacher had ducked out to go to the loo. The teachers laboured hard to try to make their handwriting as legible as possible on what is, let's face it, a difficult surface to master (or perhaps it's just me who can't write neatly on a blackboard?)
Combined with the dust particles and the chalk breaking at inopportune moments. it's no wonder there were sighs of relief all around when blackboards were finally phased out in favour of the less-characteristic whiteboard. There's no denying the visual value of a blackboard though and, to this end, they've been assimilated into design culture, popping up routinely in cafe, restaurant and shop interiors not just as signage but as design props in their own right.
Using a few embroidery frames, it's easy to make your own blackboard featur16-06-2013 05:30:00e, whether it's for jotting down the shopping list or as an interactive art piece.


Step 1 - Using your embroidery frame as a template, trace around the outside ring with a pencil on to a piece of plywood.
Step 2 - Cut out with a jigsaw. Sand any rough edges with sandpaper until smooth.
Step 3 - Apply 2-3 coats of blackboard paint, allowing the paint to dry between layers.
Step 4 - When the paint has dried, simply glue your frame to the board using a suitable adhesive. When the glue has dried, sand any overhanging board and touch up the paint on the edges if required. You could varnish or paint the frames if desired.
Step 5 - Attach a hook to the back and display or utilise the hoop clasp as a hanging device.


Materials/tools
• A selection of embroidery hoops in different sizes (available from Spotlight)
• Blackboard paint and brush
• Scrap plywood
• Jigsaw
• Adhesive suitable for binding wood
• Sandpaper
• Hook


Next week is my final contribution to Craft. Thanks and goodbye. For any craft conundrums, inquiries or opportunities contact me at craftwithkick@gmail.com