When renovating, an Auckland couple like to weave their love of beautiful fabrics into their interior decoration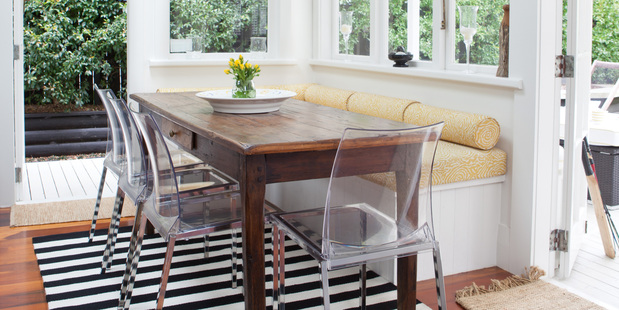 Serial renovators Annie and Peter Loveridge have revamped eight of the 10 homes they've owned in four different countries. Their first project was a single-bedroom basement flat in London, which helped them to identify their strengths and limitations.
"We're neither patient nor skilled enough to undertake any work ourselves, so we've always employed professional tradespeople to achieve a perfect finish," says Annie. "Peter is fantastic with layout and spatial issues, and I'm the decorator."
The couple bought their current home - a character villa in Auckland's Herne Bay - in 2011 after spending quite some time finding the right house. It had all the right attributes, something that ordinarily isn't a major factor for the couple.
"We're usually a lot more spontaneous and go by the feel of the home. However, this was the first house that gave us everything we were looking for and hadn't been stripped of its character and charm," says Annie. "We really loved the wide hallway that looks out to the flat rear garden, and the fact that the original fittings were all still intact."
With a month up their sleeves before they took possession, the Loveridges were able to get a lot of work done before they shifted into their new home.
"I had storage cabinetry fitted, the floors refinished, new carpet laid, the entire inside of the house painted, skylights fitted and blinds made," says Annie. "Most of the work was completed by the time we moved in.
"It was a crazy month, but we've done this before, and not having to live among the grime is worth the effort. We left all the external works and just a few small cosmetic changes to the interior until we'd moved in, making it very easy on our family."
Annie has dressed every room with beautifully coloured and patterned textiles.


Style tips
Imperfect love: Annie enjoys her home's character features, such as the door handles. "They're a bit cranky and wobbly but I wouldn't change them. It's the imperfections that make our house a home."
Material world: Fabric rules in the Loveridge house. There are reupholstered vintage chairs, cushions, blinds and lampshades, and even fabric-covered memo boards in the children's rooms.
Mat finish: Annie has also bought rugs for some of the rooms, but I'm slowly integrating their designs into our home, too."