This 19th-century New Plymouth villa is packed with treasures with their own special stories to tell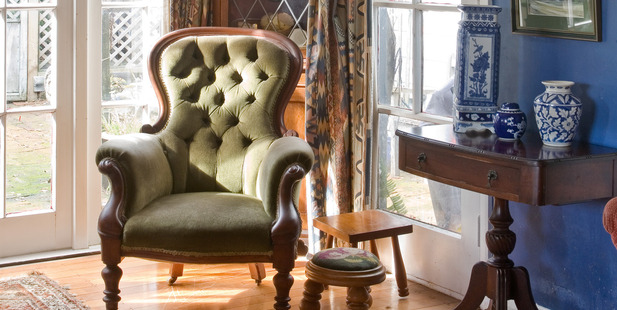 Having lived in their Victorian villa in the centre of New Plymouth for 30 years, Ali and Lance Girling-Butcher have filled it with treasures and memories. Every room is packed with books, artworks, antique furniture and ornaments, with many pieces having an interesting history.
Ali created many of the paintings in the house, while Lance crafted much of the furniture. Ali has had a particular fondness for china and silver ever since she was given a Wedgwood dinner set and some other pieces as a young girl, and there are also family heirlooms, such as the Steinway piano that once belonged to Lance's mother and a collection of Waverley novels he inherited from his great-grandfather.
"A lot of the furniture is homemade, or scrounged from second-hand markets and refurbished," says Lance. "I think we only bought two items new. We don't have any favourites - we love all the things in the house for the total effect they create."
In the three decades the couple have lived in this home, they've raised three children, along with a variety of dogs, cats and birds.
"All the children have left home," says Lance, "but we have three grandchildren living in New Plymouth who are regular visitors."
In fact, the house is often filled with guests, many from out of town. "We entertain a lot," says Lance. "Depending on the circumstances these can be formal dinners or barbecues and lunches."
A quick glance at the kitchen tells you Ali and Lance can cope with any number of guests. It has a large baker's oven, with pots, pans, knives and other implements covering most of the walls and hanging from the ceiling. "Ali likes seeing them on display, and there's not a lot of cupboard space," explains Lance.
The kitchen is part of the original house, which was built in the 19th century as a manse for a Baptist minister. It was later converted into a boarding house, with subsequent additions increasing its floor area to nearly 200sq m.
A recent extension is Lance's former workshop on the eastern side of the house, where he used to make furniture before he lost his sight six years ago. Ali now uses the space as her studio. It's a beautiful room with primrose yellow walls and doors that open onto a small brick-paved courtyard.
As well as her own pieces, Ali has hung the works of many other artists, including painter Michael Smither, on the walls in her studio. She has also employed her artist's eye when decorating the house. "She has no special design theme," says Lance. "She just loves to create a warm, relaxed atmosphere that's welcoming and interesting."


Style tips
Visual feast: Putting pots, pans and other cooking implements on display - rather than behind cupboard doors - can create a point of interest and add warmth to a kitchen.
Gathering tales: Collecting, refurbishing or making objects over the years is a great way to fill a house with memories and stories - something you don't usually get with items bought new.
Invest in your passions: Follow your heart when renovating or decorating; if you enjoy cooking, invest in a great kitchen that will bring joy to your daily routine.


Leanne Moore is the editor of Your Home & Garden. For more pictures of this home see the latest issue of Your Home & Garden, on sale now.