Temporary turns permanent, says Ben Crawford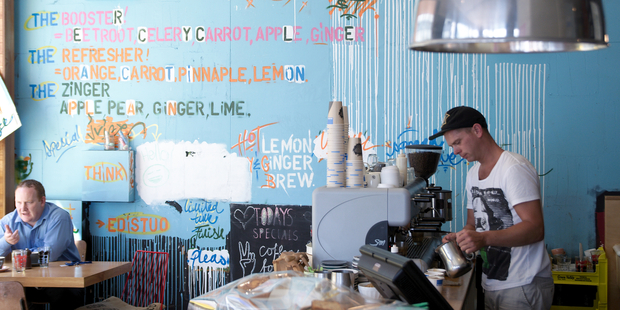 Aman walks into a cafe wearing a crisp, white shirt complete with bow tie, motorbike helmet under one arm, leather satchel slung over his shoulder and a large grin. It's a modern take on a traditional style. I can see why this place looks like it does.
I'm sitting in Federal & Wolfe in downtown Auckland. I'm here to meet Jeremy Turner, our bow-tied cafe entrant, well known Auckland restaurateur and founder of Federal & Wolfe, which he sold in 2012. I want to know how the concept was conceived in the hope I'll find some nuggets of inspiration that can be applied at home.
Beside me, enormous floor-to-ceiling windows have been rolled back, virtually opening up two sides of the cafe to the street outside. Light streams in, casting a happy hue across an eclectic mix of tables, chairs and walls of spray painted messages, menus and graphics. Behind me, suited businessmen discuss financial markets. Their conversation mingles with the accented tones of American tourists sharing the table with me.
It seems this place thrives on opposites. Somewhat of a misfit within Auckland's concrete jungle, camouflaged on the intersection of the two streets it borrows its name from, it provides a delicious secret for those in the know.
From the footpath it looks like any other drab office building synonymous with a city centre. But step inside and you're transported into a vibrant, gritty space that wouldn't be out of place in New York.
As I find out, this isn't just a coincidence. As it turns out, Jeremy is in love with New York. He and his wife travel to the Big Apple at least once a year and they are always surprised that their best dining experiences are often hidden away in the unlikeliest, grungiest spots.
These encounters were the inspiration he brought home with him to create what is now Federal & Wolfe. With Mike Murphy and Johnny Harnett, they set about bringing grungy New York to downtown Auckland which, in 2010, was awash with formulaic franchises.
Cue bold spray-painted graphics, recycled furnishings and minimal external signage.
Driven by Turner's belief that design must generate opinion, the cafe was initially established as a pop up, a considered work in progress with the necessary abstractness and hidden quality needed to fly in the face of existing downtown norms. To be successful though, the food and service needed to be amazing, too, a fabulous juxtaposition to the gritty environment.
And it was. The recipe proved to be a hit and Federal & Wolfe is here to stay, proving temporary can indeed be permanent.


Ideas to copy
• Keep your eyes open while on holiday. Foreign shores are teeming with fresh ideas that haven't hit New Zealand. Take a knot out of Jeremy's bow tie and add a slice of grungy New York to your home. It's easy. Make your own stencil by printing the alphabet on to the heaviest stock of paper your printer can handle, then grab some spray paint and channel your inner street artist. Decorate your walls with to-do lists, words and phrases or personalise your kid's bedroom by adding their name to the door. The less perfect and more colourful, the better.
• Let your home evolve around you and develop with you. Use modular furnishings. Choose a sofa that can change shape, a dining table that can extend, or define key areas using movable dividers instead of permanent walls. Freedom Furniture (see freedomfurniture.co.nz) and Bo Concept (20 Normanby Rd, Mt Eden, boconcept.co.nz) are full of such goodies.
• Generate opinion by executing ideas that make people ask questions and leave them with a lasting impression of your home. Why not make the chairs in your home a talking point, too? The Vitrine (1a Grosvenor St, Grey Lynn, inthevitrine.com) is always overflowing with chairs screaming out to be taken to with a paintbrush and spray can.
• Oh, and a bow tie worn with attitude is the business.


Ben Crawford and sister Libby won the first series of The Block NZ. They run the creative advertising agency Libby & Ben, see libbyandben.co.nz