Greig Morgan's Easter bunnies are as cute as buttons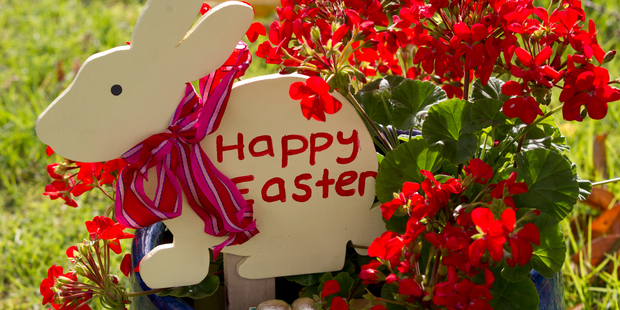 Here's an easy way to impress the relatives this Easter - whip up a handful of these sweet little bunnies and use them to help the egg hunters find their way.

Step 1 - Take your plywood and sketch the shape of a cute-looking bunny, just big enough for the kids to find.
Step 2 - Using a jig saw, carefully cut around the shape on the waste side of the pencil line.
Step 3 - With the sandpaper remove all sharp edges on both sides of the rabbit.
Step 4 - Use this as a template around which to scribe a pencil line for as many bunnies as you like.
Step 5 - Paint both sides of the rabbits, and don't forget to add an eye.
Step 6 - Using a sharp handsaw or your jig saw, cut enough stakes to length as there are rabbits.
I cut mine at about 300mm long, before marking out and cutting an angle on either side to create a point, making it easy to push or hammer them into the ground.
Step 7 - Mark the back centre of the rabbit, then fix the stake with two screws, evenly spaced, top and bottom.
Step 8 - Tie a bow around the bunny's neck for decoration and, if you like, write a small message on it.

Materials
• Plywood 9mm
• 40x20mm pine (stakes)
• Ribbon
• 20mm screws
• Paint
Tools
• Pencil
• Jig saw
• Protective wear
• Scew gun
• 80grit sand paper
• Paint brush