If you want to make something a little quirky on St Patrick's day, Greig Morgan has just the idea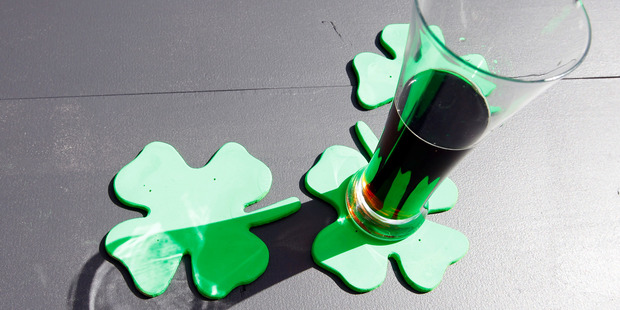 These shamrock drink coasters will bring good fortune to all Guinness drinkers.
Replacing tatty old drink coasters is one of those things you can put off for ages. In honour of St Patrick's Day, here's the perfect chance to kill two birds with one stone and make beer coasters in the shape of four-leafed clovers. They'll help you get into the spirit of things when your mates come over. Not only do they look a treat, they make a great talking point too.

Step 1 - Sketch the shape of a four-leaf clover onto a sheet of MDF, in the proportion of a beer coaster.
Step 2 - Using a jigsaw, carefully cut around the shape on the waste side of the line.
Step 3 - Using an appropriately shaped file to suit the outline of your pencil mark, neatly file up to the line.
Step 4 - Using 120-grit sandpaper, remove all file marks and round off all the sharp edges, to neaten the coaster's borders.
Step 5 - Once you have the end product looking exactly how you want it, use it as a template to draw out as many coaster shapes as you require.
Step 6 - Repeat steps two to four on all the other coasters, and when they're all sanded, finish off with a couple of coats of paint.
Tip
Use a primer undercoat first, lightly sanding between coats with wet and dry 220 sandpaper for a more finished look.

Materials
• 6mm MDF
• Fluro spray paint
• 120g sand paper
Tools
• Pencil
• Jigsaw
• File set