Recycled materials and inexpensive character touches kept the costs down on this charming renovation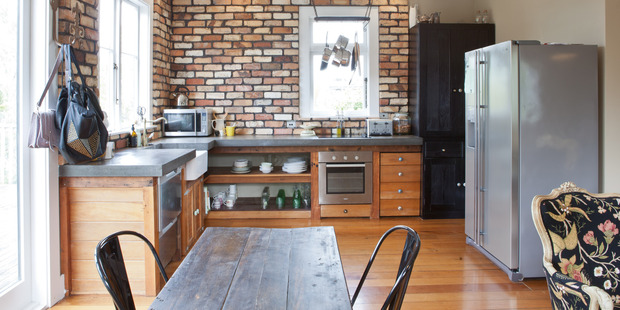 Budget constraints meant looking for a home on Auckland's North Shore instead of the central city, but Clayton and Heidi Elsmore haven't looked back since buying their Beach Haven cottage.
"We'd been living in London for a couple of years and when we returned in 2009 we were blindsided by the prices," says Heidi.
So the high school sweethearts chose a tiny one-bedroom 1920s worker's cottage because it was affordable, had character and could be easily extended.
Improving it was a breeze: Clayton is a builder and Heidi has a knack for interior design on a shoestring. "I loved the claw-foot bath and the kauri floors," says Heidi, "but the kitchen was like a modern kitset that didn't really fit with the age of the place."
She and Clayton redesigned the layout of the original home to give it three bedrooms (one with an en suite), and sketched out an extension including another bathroom and an open-plan living, dining and kitchen zone overlooking their patch of lawn.
If the renovation wasn't enough in itself, they also had a deadline to meet, because the just-married couple had their first child on the way.
Clayton spent all his spare time getting the house ready for the new arrival. He had a head start, because for years he had been collecting leftover timber from jobs he'd worked on.
The couple saved thousands of dollars by building with recycled timber, reusing windows from the original part of the house and buying second-hand materials online.
One of their online buys was a load of kauri planks from a demolition yard in Tauranga. "They weren't cheap, but they were once part of an old church, so the width of the boards was exactly what we needed," says Clayton.
When it came time to tackle the kitchen, they had a bit of a rethink. "We'd wanted concrete floors, but we realised they didn't fit the style of the house, so we compromised and made a concrete bench instead," explains Heidi.
Once Clayton had finished all the building tasks, Heidi took over.
"We'd agreed from the start that he'd do the building and I'd be the decorator," says Heidi, who enjoys buying worn-out objects and then painting or reupholstering them to fit with her decor.
Her design aesthetic revolves around random discoveries and no single style. "I love spots, florals, stripes - a bit of it all."

Style tips
Use it again: In the kitchen, second-hand bricks complement the recycled-timber cabinets. Clayton waterblasted each one, then sliced them in half with a grinder. "That meant we got two for the price of one," he says.
Personality plus: Heidi used a mixture of knobs to finish the kitchen cabinets. "I'd been collecting them from little shops for ages," she explains. "I didn't want everything to match."
Theme scheme: Collecting objects with a theme gives
character to a home. Heidi goes for skulls. "I have skulls that are a salt-and-pepper set, little herb planters, skull candles, a skull blanket and skull plates."