Scraps of leftover material are handy to use to make some colourful pin cushions.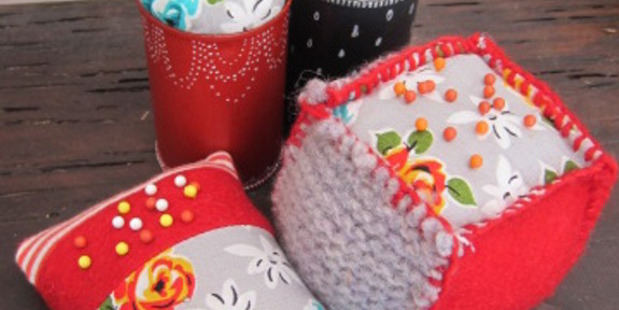 During my patchwork misadventure a few weeks back my pin-cushion was subjected to considerable abuse, as it was the victim of my misplaced frustrations. By the end of that episode, it was in a lamentable state, worn to a thread on one side, its entrails spilling forth like some badly timed joke. I have taken pity on the overworked creature and put it into retirement in Empress Eight's bedroom where it will no doubt be re-invented as a bed or chaise lounge for some precocious plastic fairy-warrior-princess.
If you're new to this crafting racket then making yourself a pin-cushion is a good place to start. My first sewing lesson at intermediate was the pin cushion-in-tin featured here (I've renamed it in an attempt to make it more sophisticated than it is) and although we rolled our eyes at the time, it taught us several important lessons with a needle and thread: how to form a proper knot, how to stitch evenly and how to recognise tension in our stitches. Here are three slightly different versions to get you started.

Pin Cushion Pouf
Materials
• An old tin
• Paint or material to cover
• Iron
• Fabric glue
• Material for top
• Needle and thread
• Stuffing
Step 1 - Grab a tin from the recycling. Wash and file off any sharp edges. Either paint or cover with material. To paint, sand lightly and apply 2-3 coats of enamel paint and finish off with varnish if desired. To cover, cut material to length allowing excess at top, bottom and end for hemming. Using iron, press under hem at bottom and ends for a tidy finish. Stick to tin with fabric glue; the excess at the top is tucked in under the cushion.
Step 2 - Using tin as guide, cut a material circle roughly 2-3 times bigger than the tin. Thread a needle with double thread and knot (make sure the thread is long enough to go right around the circle). Stitch 1cm from edge of circle using a large running stitch. Once you've stitched the whole way around, continue to hold the needle in one hand and grab some stuffing and place it in the middle of the circle with the other hand. Now pull gently on the thread to almost enclose the material around the stuffing. Secure with a couple of stitches and add extra stuffing if needed. Push into tin base. Voila!

Pin Cushion Pillow
Materials
• Fabric scraps
• Scissors
• Sewing machine
• Iron
• Stuffing
• Needle and thread
• Pins
Step 1 - Cut 6 rectangles (2 @ 4cm x 11cm, 2 @ 5.5cm x 11cm, 2 @ 13cm x 11cm). Sew these together in two sets (front and back) with a 1cm seam. Press seams open.
Step 2 - With right sides together, pin front to back leaving gap in seam for turning. Sew (1cm seam), trim seam by half and cut corners on diagonal. Turn through gap, push out corners with scissors. Stuff with hobby-fill and hand sew gap in seam together.

Pin Cushion Cube
Materials
• Material scraps
• Large needle and wool thread
• Stuffing
Step 1 - Cut 6 equal squares (approx 7cm sq). With wrong sides together blanket stitch two squares together along one side. Continue doing this until you have a joined row of four squares. Then blanket stitch the two ends together to form a cube, minus the top and bottom.
Step 2 - Take the fifth square and, matching up the corners, blanket stitch in as the base. Half-stuff the cube then blanket stitch top in place, leaving one side open. Finish stuffing through this gap and then blanket stitch closed.