Your child can pick a design for this pen holder, says Greig Morgan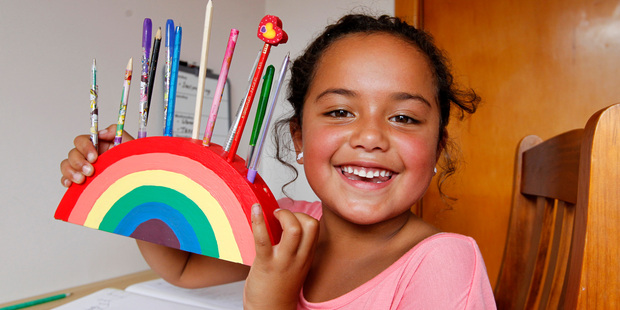 How is it that pens and pencils accumulate like nobody's business? In kids' rooms they can end up all over the place. Make them a handy pencil holder in a shape they like and they might be encouraged to keep their stuff off the floor. You can give the shape a more grown-up look if it's for the kitchen.
Step 1 - Take your piece of wood, and sketch or trace your desired shape on it. The beauty about this project is that you can make things to suit you or your child's requirements, such as a star, a mermaid or a train.
In this case we went with a brightly coloured rainbow to help brighten up the desk, and it was as simple as tracing around the shape of a pot lid to give the right effect. To make it more about doing and less about watching, get them to help with the sketching and painting.
Step 2 - Using a jigsaw, cut around the shape on the waste side of the pencil line.
Step 3 - With the shape now cut out, the simplest way to remove the jigsaw marks is by using a belt sander in the same direction as the wood grain.
Then lightly remove all sharp edges by hand-sanding.
Step 4 - Mark evenly about 30mm apart and about 15mm in on both sides, creating a staggered look.
Step 5 - To give the right depth, wrap a piece of tape, as a guide, around the appropriate sized drill bit that fits the diameter of your pens or pencils, usually about 40mm.
Step 6 - Now drill, straight and true, on the centre of the pencil marks, as far as the tape guide.
Step 7 - Lightly sketch out a guide to follow when painting on your rainbow colours.
It's as simple as that.

Materials
• 150 x 150 dress gauge pine
• Sandpaper 120g
• Various coloured paints
Tool
• Jigsaw
• Belt sander
• Protective gear, eyes and ears
• Drill
• Drill bits
• Pencil
• Paint brush