Play your cards right and you'll come up trumps with an attractive bedspread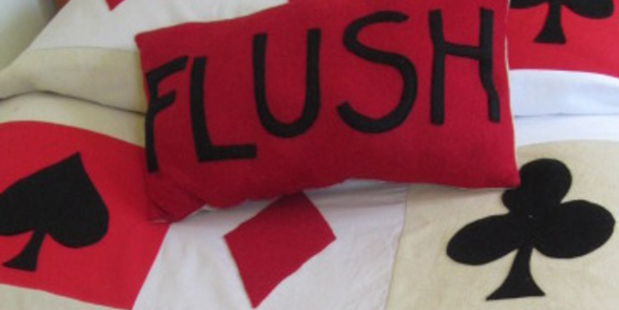 Master 11 has discovered gambling. Apparently, playing poker with Monopoly money is all part of his manhood journey and any impulse I may have to lecture him on the pitfalls of risking money should be suppressed in favour of the learning opportunities to be found in bluffing your way to victory. However, I drew the line at a set of $80 poker chips and told him rather too sanctimoniously that there was no place in our house for such a thing. "But Muuu-um," he moaned, "they're made from good quality plastic . . ." It was a nice try but this was one occasion when quality wasn't worth it.
As a gesture of goodwill and clearly feeling deluded by my parental superiority I decided to make him a new bedspread and his eyes lit up when I mentioned decorating it with the suit emblems. I duly set to work convincing myself that this would be fast, fun and noble (after all I was up-cycling); it wasn't. It was repetitive and required stamina and I didn't have six months to finish it. With the directive that no gratuitous colour be employed I focused on textures and just managed to pass the test.

Step 1 - Measure bed. Facor in additional width and length to create drop. I added an extra 35cm to each side and 40cm to the each end. Decide on block size, include a 1cm seam. I settled on a 28cm square block that allowed me to divide the width measurement by six. I then devided the length by 28 and arrived at the number of blocks required to make the bedspread. Make a template for your block, ideally from graph paper so that it is square. Use the graph paper to create a plan of how your blocks will fit together before you cut them up, or you can lay them out on the florr to arrange them.
Step 2 - Cut your blocks. Speed the process up by folding the material and cutting two at a time. Make sure the template is positioned on the straight grain of the fabric. The here is precision. Wonky blocks will create problems later on. If you're feeling virtuous (or poor) the bulk of your material can come from stuff you have lying around. I used an old paiting drop sheet, two surplus bed sheets and an old blanket and added some colour with a piece of homespun and some felt from Spotlight. Once cut, add any embellishments to the blocks before sewing them together. Sew blocks together in horizontal rows. To avoid seam slippage, double pin the seams first with a horizontal row of pins and then a row of pins placed vertically so that as you sew you remove the horizontal pins and the vertical ones are left to prevent the marterial from slipping. Iron the seams open.
Step 3 - Sew the rows together horizontally, paying attention to matching up seams and double pinning along entire seams. Pin seam intersections flat with two sets of pins. Once you've completed this pinning and sewing marathon, prepare lining to fit, match right sides together leaving a gap in the seam to allow for turning. Sew and turn right side, roll edges between and turn under gap edges, pin and press. Top stitch around edge in desired configuration.

Materials/Tools
• Yardage, approx. 1.6m x 2.6m for a single bed (can be derived from various up-cycled sources)
• Pins (lots and lots of them!)
• Sewing machine and thread
• Graph paper, pencil, ruler for template
• Fabric scissors
• Iron