Justin Newcombe reflects on some of his favourite natural pest sprays - and says farewell to his loyal Back Yard readers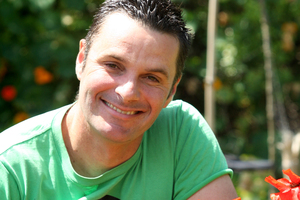 This column has finally come to an end for you, the reader. However, looking around the garden before I began writing this I could see at least another few hundred projects to get to.
I've had the odd telling-off from some of you when you didn't agree with what I had written, as well as some lovely stories of your own which I always found engaging and encouraging. The fact that you went to the trouble to write back, either way, was profoundly flattering and something I would never take for granted.
The topic I've had the most feedback about has been my "kitchen pantry" spray recipes. We get requests all the time asking for different ones, so I thought I'd spend my last few lines going over a few of them for you.
The basic premise is that these sprays are used in a prophylactic or preventative way. In order for this to work for your plants at the right time, it's a good idea to keep a track of your spraying on a calendar. In many cases, you can mix quite a few ingredients together to reduce the amount of time you actually spray.
I also recommend buying a decent spray pack. This is well worth the expense as it turns spraying into an easy 15-minute job once every 10 days, rather than a laborious hour-plus while you struggle around your beds, constantly refilling as you go.

Pests
The first recipe I ever used was a simple soap, oil and baking powder spray to clean up my tangelo.
The recipe is one tablespoon of garden friendly soap (potassium-based rather than sodium based, like ECO dish liquid), one tablespoon of baking powder and one tablespoon of vegetable oil mixed in one litre of water.
I've often used olive oil, which worked fine, but in recent years I've started using neem oil which is an excellent systemic pesticide.
I initially used this spray to get rid of the black soot which built up on the leaves of my prized tangelo but it was also a cracker for killing white fly, aphid and thrips.

Fungal infections
More recently, I've started using a milk spray to keep black spot and other fungal infections at bay and as a systemic drench when watered into the base of the plant.
This is a simple 60 per cent water, 40 per cent milk mix. I've used it on my tomatoes as a foliate spray as well as an in-ground treatment with great success.
The idea of using milk was actually given to me from a Radio Live talkback caller who phoned in one morning when I was hosting and struggling with a decent remedy for black spot. Thank you, caller.

Mealy bugs
Another gardening problem I've solved in my kitchen in recent years is mealy bugs.
I had a huge dieback of borlotti and cannellini beans. The symptoms were total canopy collapse over about two days. It wasn't until I removed some of the dead bushes that I realised mealy bugs were the problem.
To kill them I needed to use pyrethrum, a natural insecticide made from dried chrysanthemum flower heads. But part of the mealy defence mechanism is having a thin, waterproof film which covers its body making it difficult to get effective contact with the water-based pyrethrum.
The solution was to mix the pyrethrum with garden-friendly dish soap. As well as being a penetrant in the soil and helping the pyrethrum solution reach the affected area, the soap breaks down the bug's waterproof layer allowing the pyrethrum to make contact.
Mix the pyrethrum as per the instruction on the bottle, then add one tablespoon of dish soap per litre of water. The same method can be used replacing pyrethrum with a table spoon of neem oil. I try not to spray pyrethrum in the garden because it can affect bees.

White fly and aphids
Garlic is also a spray I've used from time to time to combat white fly and aphids. Soak three or four cloves of garlic in a jar of water for a week, decant off the liquor and replace with water. Mix five tablespoons of garlic water per litre of water and with spray. Mixing garlic water with soap and oil spray will help the garlic stick to the plants for longer.
Solving garden pest problems using everyday kitchen ingredients is cheaper and safer. Once you get to know what kills what, you can become a bit of a chemist yourself. If that's still as clear as mud I've got a fact sheet on my new website.
Happy gardening and thanks for reading.