Entrepeneur and jewellery designer Louise Pilkington shares her treasures with Viva.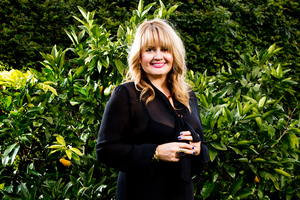 It's a week of new beginnings for Louise Pilkington, the charismatic hair stylist, former owner of Servilles Ponsonby and designer and co-founder of Loumina jewellery.
She just opened her latest venture: Dry & Tea - a "boutique blow wave bar" and tea house - in Newmarket. Located on Kent St, the space has been designed by Cheshire Architects and features a wall dedicated to artist Paul Hartigan's work Starburst Palm.
Pilkington talks us through a few of her favourite things, from a good luck Buddha to her favourite colour, white.
10 FAVOURITE THINGS
1. Happy Buddha
My great aunt turns 104 this September and still lives by herself in a lovely home by the lake, and has the most amazing collection of beautiful furniture and art. She gave me this Happy Buddha last time I visited her and she told me she rubbed his tummy most days and he brought her luck.
With luck still on her side at the age of 103, I feel very fortunate to have been given this and hope I receive the same incredible luck as my great aunt.
2. Art glass collection
Over the years I have been lucky enough to be handed down some amazing Murano art glass. These gifts started my passion for collectable glass and I've continued to add to it ever since. Within my collection is a 17th century lead crystal vase I bought in Argentina while there for a friend's wedding - the city is full of incredible antiques. I went over with a friend and our hand luggage was rather full on the flight home - I had the crystal vase and she brought home a chandelier!
3. Tongue and groove walls in my house
When I bought my house a couple of years ago, I walked in and fell in love with the walls; however it was in need of a paint so now all my walls and ceilings are white. I love white, it's the perfect backdrop to all my colourful pieces and white tongue and groove makes it feel like a bach by the sea.
4. Amethyst Star ring
For the past four years I've been designing jewellery for my brand Loumina and this piece is one of my all-time favourites. The stars remind me of Wonder Woman and the beautiful crystal amethyst is a powerful healing stone. This healing piece definitely makes a statement.
5. Paul Hartigan art
I love Paul's work and his passion - I have a couple of his pieces but my absolute favourite is my Tui. I love his work so much that we have chosen to feature it in my new salon.
6. Alexander McQueen candle
I was on my way to New York fashion week and as soon as I landed I received a text from a good friend telling me Alexander McQueen had passed away. My heart sank as he was and always will be my most loved and influential designer. Every time I light this candle I think of him.
7. B&W Zeppelin
When my boyfriend moved in, the one thing I was most happy about him bringing with him was his stereo. Not only does it put out great sound, but it looks great.
8. Chippendale wardrobe
When I bought my house it was lacking the wardrobe space to house my clothing addiction. My best friend found one for me on Trade Me and it's absolutely beautiful. It was originally imported from Germany and I bought it from a trader based in Kaipara. I felt very lucky to have found it.
9. My grandmother's tallboy and other units
I was lucky enough to be given my grandmother's bedroom furniture; however it was dark oak and didn't really suit my house. Due to my love of white, I had a vision of painting it but had to check with my father to ensure his mother wouldn't mind. Dad assured me she'd be happy just knowing I was getting use out of it, so once I was given the all-clear I got it all lacquered white. It suits my home perfectly and is so nice knowing it belonged to someone so dear to me.
10. Jonathan Adler Milk Glass collection
Over the years I've been collecting white pieces from Jonathan Adler and when I was in New York I fell in love with Milk Glass. The collection looks great white on white - it's a nice clean look and interesting to look at due to the many shades of white that feature. When all together they complement each other nicely.