Calypso Paoli's creative mind has led to a burgeoning career. Viva takes a look at what she's into.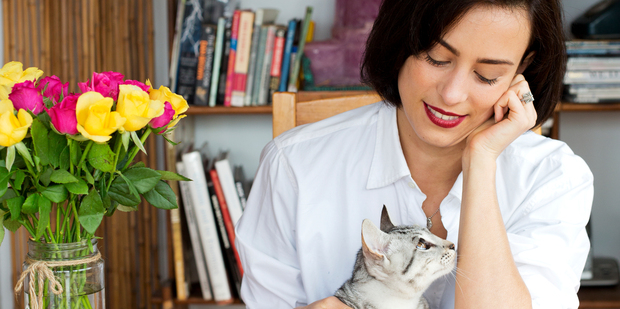 Photographer and art director Calypso Paoli's range of work is varied, despite being relatively new to the industry. The Elam graduate has had her work published in many young creative incubators, including online magazine Rouse, Print and Remix, and Paoli shot the album cover for local artist Lisa Crawley. She has even traversed Mt Kilimanjaro for work. The emerging creative, whose aesthetic veers towards the soft and feminine, is also one of the faces behind production studio Nature's Gun, and recently collaborated with Jordan Rondel of The Caker and producer Laura Barton of movie distribution company Mad Man to create a short film for Rondel's cake business. Paoli jokes that the project "developed into a quirky love triangle with cakes", as well as clothes from Stolen Girlfriends Club and jewellery from Zoe and Morgan. She tells us about some of her favourite things, from an old Holden Kingswood to, yes, cake.
* Watch the film at our Facebook page.
10 FAVOURITE THINGS
1. Paolo Roversi
This Italian-born photographer inspires me to no end. He's always worked in medium-to-large format and in a lifetime has contributed a millennium's worth of work.
2. The Tepid Baths
I love having a swim/sauna/steam; it recharges my batteries. And I must say the recent renovations add a splendid historical context. From the vintage look of the open air changing rooms to the images on the walls, it's just a wonderful place to unwind.
3. Pyramid ring
My partner Juan designed this pyramid ring for me. It's inspired by Chichen Itza, a Mayan pyramid in modern Mexico. Zoe & Morgan made the mould for us.
4. New Caledonia
My birthplace and island roots. Life over there is so relaxed and carefree. Like anyone, I feel rejuvenated with a good dosage of sun, sea and fresh local produce. A great place to check out is the Tjibaou cultural centre. Designed by Renzo Piano, the main building is a modern take on the traditional Kanak "case", or house. An icon of New Caledonia.
5. My cat Pepi Le Puss
He's an ocicat and looks like a miniature snow leopard. He is super-cute and super-adventurous, unfortunately a bit too adventurous. He jumped off our balcony and fell three floors to street level and survived.
6. My man's 74HQ Holden Kingswood
This car is the boss on wheels. The colour is probably the best part about it, but it has taken a year of solid work to define all the original elements: interior, paint, lines... it's neverending.
7. Helicopter rides through Wanaka
I was hired as stylist for this year's Swanndri campaign, shot in Wanaka. To get to the shoot locations we were transported by helicopter, a first for me. That was a crazy ride definitely not for the faint-hearted and I can't wait to do it again.
8. Shantaram
This book was passed to me by someone who was inspired by it. I'll pass it on for the same reason. While climbing Mt Kilimanjaro last year for Adidas, this was my escape from the pain.
9. The "Heart and Dagger" cake by The Caker
Just like your grandma used to make them. This is a seriously delicious cake.
10. Jones the Grocer Newmarket
I love the marble four-berry smoothies, the Mast Brothers chocolate with a strong coffee, the large industrial room with elegant touches of European and Asiatic antiques for decor - another great place to unwind.