A home-made film set is perfect for a stop-motion masterpiece, discovers Justin Newcombe.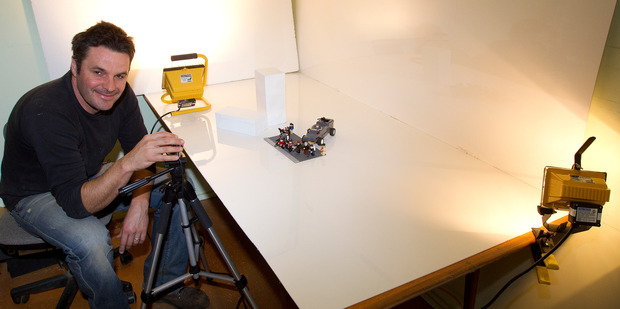 Right from the top I might as well say this might seem like some sort of deranged segue into DIY oblivion, but I assure you that if you are a parent of school-aged children, this might in fact be the best thing you read over the remaining week of the holidays.
I built my version of a stop-motion film set for the kids about three weeks ago so they could enter the Outlook for Someday film contest for young people (up to 24 years old). The contestants produce and enter a short film on the theme of sustainability.
Of course the film doesn't have to be stop-motion, but for my kids stop-motion is definitely an accessible way to create something cohesive without adult intervention and without arguing over who is doing what. Better still, I found it could be also called a stop-whining set, a stop-fighting set, as well as a stop-eating and sleeping set.
My lot are positively hooked. What I also like is that they are interfacing with technology in an entirely creative way, inventing storylines, characters and sets as well as sound and special effects.
The build was incredibly simple. The intention was to create a generic set into which any scene could be dropped - from some puffy clouds for a helicopter to fly through to an urban street scene for a cops-and-robbers chase. In the film world, this is called a cyclorama wall. Because the set is completely white it needs to be easy to clean. I was going to make a plywood set that was collapsible and then just paint it white. However, when I was at Bunnings and explained what I was doing, one of the guys suggested a white acrylic plastic shower liner. This worked out perfectly as it folds away, is easy to clean and makes kids' work look really polished. I also picked up some small halogen lamps, which clip on to the table. Glare or strong shadows from direct light can be a bit of a problem, so I used polystyrene to bounce the light off and back into the set. But a sheet of corflute will last a lot longer than polystyrene, if you're planning to go into production.
Have a go yourself. Once you get started it's strangely addictive. I've produced a small demonstration film of some boxes I've made for the Outlook for Someday initiative which will be auctioned off.
Step 1
Clear a large space on a table, preferably with a wall behind, and somewhere that can be left overnight.
Step 2
Attach the acrylic to the table by clamping it in the corners then pin or tape it to the wall. If you are using a table indoors, you may want to support the acrylic sheet independently of the wall. To do this, clamp two pieces of timber to the legs of the table then attach the acrylic sheet to these.
Step 3
Set up the lights so you get a nice even light across the whole set. I had a problem with light reflecting off the surface of the acrylic, which is really shiny. To solve this I faced the lights away from the set and bounced it off a white surface (polystyrene) back on to the set. This worked really well.
Step 4
Set up your camera (I'm just using a small instamatic stills camera) on a tripod, then start creating your masterpiece. Take a picture of your subject, move it slightly then repeat until you've finished. Most computers will have basic software you can use to edit the individual frames into a single film.
The Outlook for Someday
Now in its sixth year, The Outlook for Someday challenge is intended to grow a generation of sustainability storytellers, as part of the United Nations Decade of Education for Sustainable Development. Teams or individuals can enter a 5-minute (or shorter) film in any genre, filmed with any camera. Entry deadline September 21. Check out the challenge at theoutlookforsomeday.net