Botanical stylist Annie Oxborough shares what brightens her world.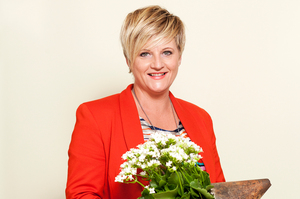 What better and simpler way to spruce up an interior than with a vase of vibrant flowers or a beautiful potted plant? Botanical stylist Annie Oxborough knows the power of the bloom, and is offering her own unique take on floral design with a selection of potted plants and herb planters housed in acrylic troughs, science beakers and traditional vases now available from Simon James Design. Alongside this display of greenery will be fresh cut flowers, available each Wednesday and Saturday. Oxborough, who develops memorable botanicals and concepts for weddings and special events, is an experienced florist, drawn to how plants and flowers can shape a room. Unsurprisingly, blooms are one of her favourite things - she tells us more.
10 FAVOURITE THINGS
1. Op-shops and vintage bargains
Things that my grandma loved and used, that now I use on a daily basis - her milk jug and sugar bowl come out each day, not just on special occasions.
Most of my furniture has come from Junk & Disorderly.
2. Plants and foliage
I love how they shape the home and make your environment amazing - when plants are missing from my house I always feel empty, as they shape the room and sort the space. They are a living dimension. I love the ceramic sky planters from Simon James; they are divine hanging pieces of art.
3. Flotsam and Jetsam
A favourite shop is Flotsam and Jetsam - I love the way Cameron [owner] mixes old and new, vintage and style from yesteryear.
4. Flowers
Flowers fill up my soul with the beauty of them in all stages from beginning to end. I love the way they open and take on a life until death, and the heady perfume. Tuberose is my favourite flower.
5. Buffalo head
I love my buffalo head from South Africa, from a hunter who had a collection and brought it all back to New Zealand. I managed to get the buffalo head and horns, which sit in my hunting room, my lounge.
6. Black Box Boutique
Love the jewellery and the fantastic wallets, oh and the shoes... God I want all the boots!
7. Little & Friday
My favourite cafe. The owner Kim is amazing, her cupcakes are divine, and the coffee brilliant. The new cookbook is to die for.
8. Melbourne
I want to live there, for they understand fashion and grunge, no compromise on rules. It's an open door. Love the food, style, street art, design and relaxed culture.
9. Component of Cut Collective
My favourite artist. When I drove up Ponsonby Rd one afternoon and looked up at a street tag that was placed, it was of the angel Gabriel with two spray cans in her wings, and tears.
10. Thai food
Hot, spicy, fresh and amazing. I make a point to eat it each day. My favourite restaurant is Aroy Dee in Takapuna.