A New Zealander in London combined the warmth of quilts with art to decorate her new home, writes Leanne Moore.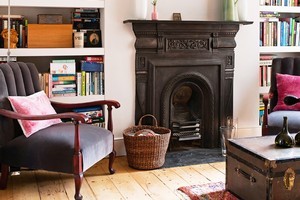 A move to London helped New Zealander Cassandra Ellis take a new career path, leaving behind a marketing job to work as a homeware designer.
When she and her English partner, Ed Prichard, a creative director at an advertising agency, set up home in a flat in Clapham in 2008, corporate jobs were scarce so Ellis took the opportunity to rediscover her long-term hobby of quilt-making and began making them professionally, as well as designing homeware and working part-time as a teacher.
She also discovered the London suburb of Peckham Rye.
"It's vibrant, diverse and full of interesting, arty people and a great mix of architecture and leafy bits, so we agreed to let the flat and look for a small house with a garden."
Making beautiful quilts requires space for cutting and storage, so when Ellis saw an 1860s terraced house with a pretty rear garden and a modern studio, she knew she had found their new home.
"The garden was really well designed and planted [but the house] was a horror of rainbow-coloured walls, layers of wallpaper, dirty blue carpet, and dodgy plumbing and electrics."
However, almost all the original interior joinery and fittings, from cornices to doors and fireplaces, were intact.
Ellis and Prichard did a lot of the work themselves, between September and November 2010. "We did everything but the plumbing and electrical replacement," she says.
After stripping back the floors, Ellis painted the upstairs boards a pale grey, while the ground floor was finished with natural hardwax oil.
The walls are off-white, and strong black "punctuation points" are features of the house, embodied in black iron radiators, painted doors, door frames and smaller decorative items. In the kitchen, glossy white cabinetry is teamed with a black painted antique cupboard and the benches are recycled laboratory worktops. The only patterned fabrics in the home are in the riotously colourful quilts on the beds.
The result is a space that's neither too spartan nor too cluttered. Artworks provide interest in the living spaces.
Ellis says quilts often mark milestones in people's lives.
"When people commission a quilt I ask them to give me things like pieces of favourite clothing, dress fabric or even old toys. A quilt is all about personal stories, from a marriage to remembering a child. My quilts are to be used for keeping warm and storing memories, though - they're not just precious art."
Style tips
Simple pleasures: Having something made for you by an artisan or craftsman is a real joy, from commissioning a work to watching it being made and bringing it home.
Exercise restraint: Because Ellis' house is small, she chose a simple interior colour scheme so it wouldn't look cluttered and cramped. But simple doesn't mean just using white; pick a simple theme and follow it right through.
Structured look: Investing in the bones of a house - the floors, walls and doors - pays huge dividends, especially in a character home.
For more pictures see the latest issue of Your Home & Garden.