Get rid of messy skateboard and scooter clutter with Greig Morgan.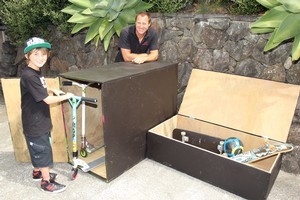 Tired of tripping over your kids' scooters and skateboards? Get them to help you make these handy storage units. They can either be tucked away in the carport or round the side of the house, or stand out as a feature of your landscaping.
Skateboard storage unit:
Step 1
Take a piece of ply measuring 2400x1200mmx18mm and mark out your components: the top (lid) 1200x600mm, bottom 1200x600mm, front 1200x300mm, back 1200x300mm, and two end pieces 600x300mm. Label each component.
Step 2
Cut out the components with a skill saw. Clamp a straight edge as a guide along which to run the saw.
Step 3
Stand the front and back pieces on their edges, then place the bottom flush with ends.
Glue and screw down the bottom panel. You shouldn't need to pre-drill holes for the screws.
Step 4
Once the front and back are secured down, turn it all over. With your two end pieces, measure and cut to fit inside the front and back pieces. Keeping everything flush, fix the front, back and bottom together.
Step 5
For the hinges, measure in 150mm from each end of the underside of the lid and mark. Screw the hinges into place on the lid. Now hold the lid against the unit so that the other side of the hinges can be fixed down to the top edge of the back panel. The hinges can also be recessed into the ply if you wish.
Step 6
Your storage unit is now ready to be painted and tagged. Screw a piece of angle steel to the front as a handle.
Scooter storage unit:
Step 1
Mark out your components on two sheets of 2400x1200mmx18mm ply: top and bottom 1200x600mm, x2 sides 1200x900mm, back and door 900x600mm.
Step 2
Follow the same steps as for the skateboard storage unit. The only difference apart from the size is that instead of a lid, you will have a door that is fixed to the front.
Materials
18mm H3 sheet plywood x3 sheets
Exterior wood glue
Butt Hinges 65mm x4 with 16mm screws
Angle slotted steep (handle)
Paint & GLO paint in fluorescent colours
Tools
Safety ware
Skill saw
Screw gun
Tape measure
Square
G clamps
Level or straight edge
Paintbrush/roller
* Next week I'll show you how to make skateboard/scooter ramps. Your kids will love you for this.