A couple of shelves will bring instant order to your shed, notes Greig Morgan.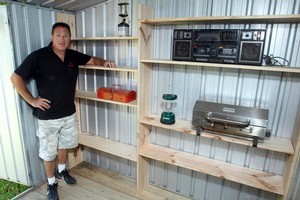 Installing a shed in your backyard is one thing, but without shelves it will quickly become a tangled clutter of tools, machinery and odds and ends. This simple shelving unit will help you keep the contents in order.
Step 1
Lay the planks for one of the vertical sides and the centre support side by side and flush at the top and bottom. Now measure where you would like the fixed shelves to sit, at the bottom, middle and top. Using your square, scribe a straight line across both supports.
Step 2
Measure in 30mm from each side of the vertical supports, then scribe a line along their length. Along this line, measure and mark in 50mm increments for adjustable shelves. Using a 5mm drill bit, drill a hole right through the marks for the fixed top, middle and bottom shelves. Next, wrap a piece of tape around the 5mm drill bit as a depth guide, drill holes for the adjustable shelves, to the depth required for the moveable shelf-holders or lugs.
Step 3
Lay the side and centre supports facing up on their edge with the adjustable shelf holes facing each other. Sight down the shelves to see if there is bow in the timber. Place the bow facing up so that it will straighten once weight is placed on it. Using 45mm screws in the predrilled holes, attach the centre of the fixed shelves to the supports.
Step 4
Stand the shelving unit up and place in its desired position. Next, place the adjustable shelf-holders in the desired pre-drilled holes, and fit the shelves to suit.
Step 5
Take the other vertical side plank and stand it up against the centre support. Mark where you would like the other set of shelves to be. Follow the same steps through to standing the unit in place. Then fix the floating shelves to the pre-drilled holes in the middle support.
* Measure the space between the side and centre supports and then measure and cut the shelves to fit.
Materials
230x19mm knotty pine x3 @ 1.8m (side & centre verticals)
230x19 mm knotty pine x 9 @ 1.2m (shelves)
45mm screws
Adjustable shelve supports
Tools
Tape measure & pencil
Builder's square
Hand saw
Screw gun
5mm drill bit