Viva meets the three women behind ClairObscur who have combined their passion for fashion with their talents as film-makers.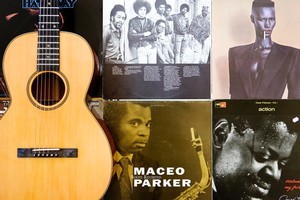 The way fashion is presented continues to evolve, from traditional runway shows to gallery-like installations, static presentations to fashion films. Locally, the growth of short fashion films has been swift, with many younger labels embracing the medium to showcase their collections. Production company ClairObscur has been behind some of them, working with the likes of Meadowlark, Moochi, Annah Stretton, We'ar and Taylor. Jennifer Raoult, Faye McNeil, and Nikki Harmsen are the faces behind the scenes of these short videos, combining their talents and experience in film to form the production company in early 2011. The trio tells us some of their favourite things, from Auckland's recent "facelift" to the joy of a simple cup of tea.
10 FAVOURITE THINGS
1. Auckland City facelift
2011 saw Auckland really tidy up and for once we didn't knock down all our heritage buildings but improved them! Our favourite spaces allow people to relax and enjoy these design-savvy areas.
In particular, we like the Auckland Art Gallery, James restaurant, Imperial Lane, Britomart and the new waterfront.
2. Great food and wine
Life is too short to eat bad food and good olive oil makes it even better. Locally made on Waiheke Island, Number 29 olive oil is our top pick. The new fish market by the water is the best of European-style market dining with Kiwi favourites. Cafe Hanoi in Britomart is a firm favourite for a super tasty lunch, and the Refreshment Room in Titirangi is one of the best kept secrets in the Waitakeres. French burgundy and Man O' War wine from Waiheke is a consistent stunner.
3. Sentimental accessories
We all love collecting various traditional accessories during our travels. Women in every culture have perfected their own style and sense of elegance. It is all about details and harmony. It makes you feel great wearing something that is more than just a beautiful accessory but is full of meaning.
4. Our children
The centre of our worlds. We all have or are about to have a child. It's an essential part of who we are as a company, that we all work from home and are able to be with our children, while being able to work full-time. Our dream is to one day have an office space that other creative women can share and all our children can be there as well. There is no need for them to be separated from us.
5. Inspiring females
Amazing ladies doing creative things that bring a refined feminine air to their work, which stands out from the crowd. We aim to work with the same grace and elegance as these wonderful women that inspire us everyday just by doing what they love. Two women we admire include local artist Katie Wolfe - from Shortland Street to the Berlin Film Festival, Katie is an actress, director, producer and mother. Her work is focused and fresh. International artist Maiwenn is a French actress and director, whose work pushes the boundaries of the mediums she uses, to create truly original works of art.
6. Fashion
We love the fact that you can put on a beautiful silk dress and you know that someone has thought about every detail of it and what was a simply a sketch in a notebook became a reality through the skills of a designer, pattern maker and a machinist. Then you end up wearing a piece of art, which you carefully curate into your individual style. In New Zealand we a spoilt for local choice, but our trusted favourites are Taylor Boutique, Zambesi, Kowtow and Juliette Hogan, We'ar, Scotch and Soda, Antik Batik, and Vanessa Bruno.
7. Music
A daily essential, important to all three of us; each of our partners are somehow tied into the music industry. We have all worked closely with the music industry and musicians, either making music videos or documentaries or styling performers. The guitar pictured was made by Nikki's partner, Gene Bennett.
8. The internet
It seems a bit simplistic maybe but it is the platform that allows our company to exist - it's how we communicate as an international community now. It's a source of inspiration and motivation.
9. A good cup of tea
It's impossible for a day to go by without a cup of tea coming into play at some stage - we all enjoy different varieties, but the joy of that simple ritual is bliss and tea sets are cool.
10. Cameras
Our tools: where would we be without them? It is our passion of design, technology and art that brought the three of us together. We spend so much time looking at what other people make and how we make or will make projects, our cameras hold a special place in our hearts. We have a small but eclectic collection.